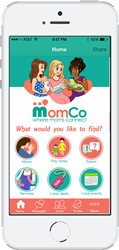 Inspired by my own experiences as a mom and small business owner, the MomCo app is truly something that I wish had existed for myself. - Jillian Darlington, MomCo Founder
San Diego, CA (PRWEB) April 07, 2015
MomCo, LLC, a company that is dedicated to helping moms, announced that they have officially launched their MomCo app. As tech savvy millennial moms spend over 6 hours a day on their smartphones, MomCo's timing couldn't be better. With the MomCo app, moms can effortlessly locate and connect with other moms in their community that have similar aged children and shared interests. No more wasted time or awkward moments at the playground trying to find moms to be friends with. It also helps moms find resources, products and services that they need. MomCo combined the best elements from other popular platforms currently being utilized by moms and streamlined them to meet the needs of the modern mom. It is free to download and is available on iPhone and Android.
MomCo was inspired by Founder Jillian Darlington's own life experiences. As a young mom, she worked tirelessly going to playdates and classes with her son just hoping to click with another cool mom to be friends with. After getting divorced, she downloaded Tinder and thought, "Why doesn't something like this exist for moms to locate other moms close to them?" This combined with her experiences as a small business owner and marketing specialist, the concept for MomCo was formed. A GEO location based social networking app for moms to find friendship and support. Also, the perfect platform for any business that caters to women and children to be able to list themselves so all the moms in their community can easily find them. These businesses can now easily and affordably gain visibility by running deals and announcing events on the app.
Over the next year, this single mom built an amazing team to bring her vision to life. After much research and countless meetings with developers, she hired experienced programmer and project manager John Hewlin to code the app. Shortly after Co-Founder Beth Bryan joined the team, bringing years of Corporate America experience to MomCo. They have created not just an app, but a brand that other moms and bloggers are already voluntarily rallying behind. They have over 40 Brand Ambassadors across the US and Australia to help spread the message about MomCo. Dedicated to supporting women's charities like Every Mother Counts with a portion of any profits made by the app, MomCo truly exemplifies the mission of moms helping moms and is set to be a staple in the smartphone of every mom.
About MomCo: MomCo, LLC, a company that is dedicated to helping moms, is based in San Diego, California. It was founded in 2014 by Jillian Darlington and Beth Bryan. Their mission is Moms Helping Moms and everything that they do supports that mission. In addition to the MomCo app, MomCo has a popular blog that provides info and tips to help moms. http://www.momcoapp.com