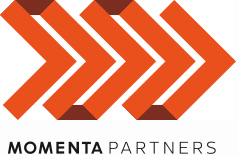 Digitalization surpasses IoT as key focus for Connected Industry
ZURICH and NEW YORK (PRWEB) October 30, 2018
Momenta Partners, a global advisory, talent, and ventures firm focused on Connected Industry, shares findings from the initial meeting of the Digital Advisory Board, an exclusive community of digitalization executives at the world's leading companies.
At the IoT Solutions World Congress in Barcelona, Momenta Partners' Jesse DeMesa, Jim Fletcher, Ed Maguire and Vikram Capoor spoke and moderated at several panels and workshops. Key takeaways from the events can be found on the Momenta blog. Additionally, Insight Partner Ed Maguire interviews Richard Soley, Chairman and CEO of the Object Management Group® and Executive Director of the Industrial Internet Consortium and a founding partner of the IoT Solutions World Congress for the Momenta Edge podcast.
There were three key themes evident across the events in which Momenta participated.
1. Digitalization gains momentum: In 2018, focus at IOTSW was squarely on connected products - target markets, capabilities, and business value – a notable evolution from the technology focus and roadmaps that dominated prior years. The IOTSW provided unique opportunities to demo a new generation of digital products.
2. Terminology shifts from IoT to Digital Transformation: While Industrial IoT is still commonly used, more practitioners are talking about digital transformation, reflecting increasing maturity, a broader shift in industry value chains and new economics enabled by distributed technologies.
3. Business cases and ROI of digitalization are top of mind for practitioners: There's a distinct shift beyond evaluating the capabilities of digital technologies to understanding how to apply technologies to deliver maximum business value.
Momenta hosted a meeting of Digitalization Leaders from some of the world's leading technology and energy sector companies to understand shared challenges and calibrate best practices. Some key highlights from the discussion:

The focus of digitalization has shifted from connecting sensors and devices to making smarter decisions based on aggregated data. In the energy sector, an emerging source of value for utility companies comes from arbitrage of local pricing and capacity trends.
While the technologies to distribute data have matured, there is still a gap in distributed energy sources to power sensors, gateways and other devices. Distributed energy development is both a source of opportunity and disruption to the existing utility value chain.
There is a significant mismatch in the time horizons of start-ups that create digital solutions and the established companies that buy them. Helping large buyers build a business case and "sell" investments internally is a key competitive differentiator for disruptors in the energy space
According to Ed Maguire, Insights Partner: "What we saw and heard from clients, partners and participants at IOTSWC reinforced our view that the transition from Industrial IoT to a broader Digital Transformation narrative is taking hold as the industry matures and focus shifts from technological capabilities to business value. The visions of connected industry on display highlighted the value add that Momenta Partners seeks to provide helping companies navigate the challenges and opportunities from disruptive change."
According to Momenta's Managing Director, Ken Forster: "As we've worked with key Connected Industry leaders, they've often come back to us for help in networking with their peers, developing a community of trusted resources that they can tap for advice and insights. Digital Advisory Board provides the capabilities for senior leaders in high-technology, manufacturing and energy to quickly tap the collective genius of their peers to enhance their ability to drive digitalization strategies."
About Momenta Partners:
Momenta Partners are Connected Industry Growth Partners, with industry-leading Advisory, Talent, and Ventures practices, accelerating the growth of Connected Industry companies globally since 2012. For more information, visit http://www.momenta.partners, join the @MomentaPartners conversation or contact info@momenta.partners.
Media Contacts:
Momenta Partners
Sandra Mueller
info@momenta.partners
+1 415 366-6632