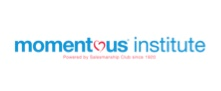 Dallas, Texas (PRWEB) July 08, 2014
Momentous Institute announced the speakers for its third annual Changing the Odds Conference, including keynote speaker Malcolm Gladwell, the internationally-renowned New York Times best-selling author. Gladwell's latest book, "David and Goliath", examines adversity and will offer attendees a new approach to turn disadvantages into advantages, reshaping the notion of underdogs versus favorites. The conference will be held October 9 and 10, 2014 in Dallas, Texas, at the Hyatt Regency Dallas at Reunion.
Momentous Institute, powered by the Salesmanship Club of Dallas, is expanding its research and training programs for education and mental health professionals in an effort to reach thousands of children they will never serve directly. Through its nationally-acclaimed school and therapy programs, Momentous Institute has been transforming children's lives by building and repairing social emotional health since 1920. This focus has led to extraordinary results in 2013: 97 percent of students who graduated from Momentous School finished high school on time (Texas promotion rate is 88 percent), and 97 percent of its students enrolled in higher education (Texas enrollment rate is 56 percent). Through its annual Changing the Odds conference, Momentous Institute brings together hundreds of attendees from all facets of education, mental health and the business community to share ideas and research.
"The Changing the Odds conference is a meeting point where all of us can learn from each other in order to foster better outcomes for today's children," said Michelle Kinder, executive director at Momentous Institute. "We are excited to again assemble the nation's leading professionals to share cutting-edge research, innovation and applied strategies that converge at the intersection of education and mental health."
In addition to Gladwell, Changing the Odds 2014 speakers include:

Rick Hanson, Ph.D., a neuropsychologist and New York Times best-selling author, whose books include "Hardwiring Happiness: The New Brain Science of Contentment, Calm, and Confidence."
Tony Wagner, Expert in Residence at Harvard University's new Innovation Lab and author of five books, including "The Global Achievement Gap" and "Creating Innovators: The Making of Young People Who Will Change the World."
Wendy Mogel, Ph.D., New York Times best-selling author of "The Blessing of a Skinned Knee," and an internationally-known clinical psychologist specializing in parenting. She serves on the scientific advisory board of Parents Magazine and is a research and policy adviser for Challenge Success, a child advocacy program of the Stanford University School of Education.
Ron Berger, author of "An Ethic of Excellence: Building a Culture of Craftsmanship with Students" and Chief Academic Officer for Expeditionary Learning, an organization that partners with schools, districts and charter boards to open new schools and transform existing schools.
Consuelo Castillo Kickbusch, founder of Educational Achievement Services, Inc., is a renowned speaker committed to empowering future leaders. She is an Army veteran, having served for two decades, and became the highest-ranking Hispanic woman in the Army's Combat Support Field.
Momentous Institute staff will also share original research and practical strategies that can be easily implemented in any environment for helping kids achieve their full potential.
Attendee registration is open now with an early bird rate of $300 available until Friday, August 1. Participants may choose to attend Thursday or Friday only for $150 per day. On August 1, rates increase to $400, or $200 per day. 2013 Changing the Odds conference sold out and the 2014 conference is on pace for a similar outcome, so early registration is encouraged.
For the latest developments and conference agenda, please visit momentousinstitute.org/changingtheodds.
Media registration is complimentary and available by contacting Meredith McKee at Meredith(at)minerva(dot)com.
The conference is made possible with the support of Texas Health Resources, Sapphire Foundation in addition to many other generous sponsors and supporters in the Dallas community.
About Momentous Institute
Momentous Institute, powered by the Salesmanship Club of Dallas, has been building and repairing social emotional health for over 90 years. The organization serves 7,000 kids and family members directly each year through mental health and education programs. The organization is expanding its reach by investing in training and research and sharing strategies with thousands of teachers and mental health professionals across the country. The combined support of Salesmanship Club of Dallas, the AT&T Byron Nelson Championship, corporations, individuals, and foundations power these efforts and truly change the odds for kids in our community and beyond. For more information, visit momentousinstitute.org.