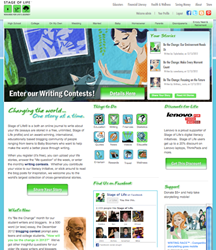 This feel-good campaign was created...to get people thinking positively about those special moments in life.
Minneapolis, MN (PRWEB) July 31, 2013
Throughout the month of August 2013, StageofLife.com, an international blogging and writing community, will ask people to celebrate the best moments of their lives and to then share that news with the world through its new "Moments of Awesomeness" campaign.
Whether it's a wedding engagement, college acceptance, birth of a child, or an "awesome" moment that occurred with friends or family, submissions for the Moments of Awesomeness campaign can include any and all of the following:
1. 500-word essay or story submission to StageofLife.com
2. Tweet @stageoflife with a short description about the Moment of Awesomeness
3. Photo submission via Instragram or directly to Stage of Life
4. Video submission via YouTube or directly to Stage of Life
5. Facebook submission on the StageofLife Facebook web page
This month's campaign is taking the place of the national writing contests that occur on StageofLife.com each month. All submissions are due August 31st by midnight Pacific time and must be themed around one of the "Moments of Awesomeness" so far in one's life.
"This feel-good campaign was created by our Editorial team to get people thinking positively about those special moments in life," said Eric Thiegs, CEO and Founder of StageofLife.com. "While people get a laugh or two in the short term from the various 'fail blogs' out there, we hope the Moments of Awesomeness effort will yield years of inspiration for people to remember that life gives us magical moments, both big and small, each and every day."
Stage of Life will compile a summary report of the campaign after its completion, including a dedicated website hosting the "awesome" content submitted by the Stage of Life members and an inspirational video compilation to capture the spirit of the project.
To submit a story, Tweet, photo, or video to "Moments of Awesomeness," visit the campaign's information page at http://www.stageoflife.com/MomentsofAwesomeness.aspx.
For more details about this project, you can reach StageofLife.com by contacting Founder and CEO, Eric Thiegs, via email at contact(at)stageoflife(dot)com.
StageofLife.com is a privately held start-up company founded in 2009 by Minnesota natives, cousins and entrepreneurs, Eric and Joseph Thiegs. As a free writing resource, StageofLife.com is home to nearly half a million teen and teacher visitors each school year, 5+ million uploaded words, and thousands of submitted essays. It is becoming the world's largest collection of multi-generational stories and hosts helpful resources tailored by life stage ranging from statistics to etiquette advice to coupons. The site's featured writing resources include writing contests, blogging tips, Language Arts lesson plans, goal setting worksheets, homeschool resources, classroom writing prompts, and more.