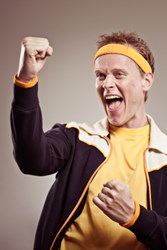 It's about time people can see something uplifting opposed to the negativity constantly shared on the news and through social media.
York, PA (PRWEB) August 29, 2013
Throughout the month of August 2013, StageofLife.com, a multi-generational blogging and writing community, has asked people to celebrate the best moments of their lives and to share that news with the world through its "Moments of Awesomeness" campaign.
Whether it's a wedding engagement, college acceptance, birth of a child, or an "awesome" moment that occurred with friends or family, submissions for the Moments of Awesomeness campaign can include any and all of the following:
1. 500-word essay or story submission to StageofLife.com 
2. Tweet @stageoflife with a short description about the Moment of Awesomeness 
3. Photo submission via Instragram or directly to Stage of Life 
4. Video submission via YouTube or directly to Stage of Life 
5. Facebook submission on the StageofLife Facebook page
"Just talking about 'Moments of Awesomeness' makes me smile", says Maura Beaver, Stage of Life Public Relations College Intern. "It's about time people can see something uplifting opposed to the negativity constantly shared on the news and through social media."
For far this month, there have been over 4,000 visits to Moments of Awesomeness information pages on StageofLife.com, and photo, video, Tweet, and essay submissions are expected to flow in up till the deadline at midnight, Pacific Time, on August 31st, 2013.
Stage of Life will compile a summary report of the campaign after its completion, including a dedicated website hosting the "awesome" content submitted by Stage of Life members and an inspirational video compilation to capture the spirit of the project.
In preparation for the video compilation, Stage of Life partnered with First Class Visual Media, a local video production company in York, Pennsylvania. Besides accepting video submissions, both companies traveled to the Central Market of York County, Pennsylvania where they filmed people of all ages who opened up during interviews when talking about the "awesome" moments in their lives.
"My Moment of Awesomeness occurred with seeing people's faces light up when sharing their own incredible moment. It truly made this project become a reality," says Will Kottcamp, Co-Founder of First Class Visual Media.
To submit a story, Tweet, photo, or video to "Moments of Awesomeness," visit the campaign's information page at http://www.stageoflife.com/MomentsofAwesomeness.aspx.
All submissions are due August 31st by midnight Pacific time.
# # #
StageofLife.com is a privately held start-up company founded in 2009 cousins and entrepreneurs, Eric and Joseph Thiegs. As a free writing resource, StageofLife.com is home to nearly half a million teen and teacher visitors each school year, 5+ million uploaded words, and thousands of submitted essays. It is becoming the world's largest collection of multi-generational stories and hosts helpful resources tailored by life stage ranging from statistics to etiquette advice to mobile coupons. The site's featured free writing resources include writing contests, blogging tips, Language Arts lesson plans, goal setting worksheets, homeschool resources, classroom writing prompts, and more.