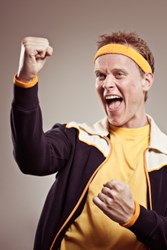 41.8% of teens have their most "awesome" moments in life with their friends (compared to 27.6% who say those moments occur with their family).
Dallastown, PA (PRWEB) September 26, 2013
As summer vacation ended last month, StageofLife.com, a writing resource and blogging community for teens, welcomed thousands of students to its monthly national writing contest when it asked Generation Z and younger Millennials the question, "What has been the most awesome moment of your life?"
Before answering the writing prompt, students took a short survey revealing the following statistics about teenagers and life's "awesome" moments...
--41.8% of students say they experienced their "Moments of Awesomeness" with friends while 27.6% say the most special moments in life come when they are with their family.
--25.8% of teens say they are alone when they have their Moments of Awesomeness.
--When asked the question "From which do you draw the most inspiration or have your biggest 'Moments of Awesomeness', teens ranked the following categories from highest to lowest: Reading and Writing #1, Music #2, Nature #3, Exercise & Sports #4, Religion #5, and Food #6.
--31.6% of teenagers say they are at home when they experience their Moments of Awesomeness. Compare that to those who say they are on vacation (20.4%), at school (18.9%), in their community (15.3%), at a special event (11.3%), or at church (2.5%).
--Nearly 1 out of 4 teens say it's easier for them to remember the negative or bad moments in their life than the good moments. Over half say they can easily remember both good and bad moments equally.
Over 6,200 students visited the StageofLife.com writing contest and survey pages during the monthly writing prompt, 250+ teens fully answered the "Moments of Awesomeness" poll, and over 80 submitted a personal essay sharing their life's most awesome moment.
From those essays, a wide variety of life's moments were shared by the student writers such as...
--Encountering a bull shark
--Confronting a bully
--Completing NaNoWriMo
--Ending a toxic relationship with a parent
--And many others
The winning 1st place "Moments of Awesomeness" essay, "In a Faded Brown Envelope" illustrated how one teen opted for a more meaningful Christmas gift.
To read all of the student essays about life's most awesome moments, watch the Stage of Life video produced for this writing contest by First Class Visual Media, and download the full teen statistics report on this writing contest via PDF, visit StageofLife.com and check out the Teen Trends page to navigate to the summary report.
StageofLife.com is a privately held start-up company founded in 2009. With over 400,000 students and teachers visiting each school year, its mission is to make the world a better place through storytelling. The site's featured writing resources include writing contests, blogging tips, Language Arts lesson plans, goal setting worksheets, writing prompts, and more.