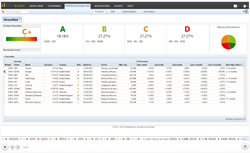 Increasing our client's performance is paramount to what drives our business and it's been gratifying to see the positive response we've received over the last year.
London and New York (PRWEB) August 20, 2014
Trendrating, a provider of innovative momentum factor analytics for global investment managers, today announced the launch of version 1.0 of its Momentum Analytics platform. The new version incorporates several new features to personalize stock screening and portfolios analysis, and provides significant enhancements to the previous version to streamline workflow which enables multi-style investors with a seamless approach to overlay Trendrating's patent-pending momentum analytics on single instruments, portfolios, baskets and indices.
Trendrating Momentum Analytics 1.0 extends the existing portfolio tools on the platform by adding a new heat map for momentum rating by country, sector and momentum peer analysis. This gives users the ability to easily identify areas of strength and weakness for any investable universe and to track relevant changes in price momentum for every holding on a daily basis. The launch of this new version empowers asset managers with tools to measure momentum objectively with a disciplined approach using the Trendrating Master Model which took over 5 years to develop. Trendrating's advances in momentum factor analytics include an adaptive multi-factor model, faster model adjustments, and longer trend durations - delivered in a fully configurable and transparent web-based interface.
Catering to multi-strategy portfolio management functionality was the main focus in the development of Trendrating Momentum Analytics 1.0. The new product allows fund managers and market strategists to gain new perspective on their portfolios without having to change their existing workflow. Ratings can be exported into spreadsheets, research reports and quantitative models with a single click. Modules included in the current version include a Screener, Portfolio Analyzer, Portfolio Optimizer and Back Tester.
Rocco Pellegrinelli, CEO of Trendrating commented, "Our product team has worked closely with our early stage customers to make Trendrating even more effective. Increasing our client's performance is paramount to what drives our business and it's been gratifying to see the positive response we've received over the last year. Trendrating is currently enjoying accelerated growth. In addition to the latest product release we're expanding our sales and support presences in London and New York. We're planning a series of seminars in the coming months to present our research findings regarding how fund managers can benefit by incorporating momentum into value, growth, and quantitative investing styles."
About Trendrating
Trendrating S.A. develops innovative momentum factor analytics which help professional investors to outperform industry benchmarks. Our multi-factor model has been back-tested over 25 years on 500,000+ time series covering 20,000 Stocks, Currencies, Commodities, Indices and ETFs. Trendrating is pioneering a modern approach to measuring momentum which asset managers can be leverage for alpha capture and smart beta. With offices in London and New York, Trendrating is funded by Angelic Ventures. For more information, please visit http://www.trendrating.net.