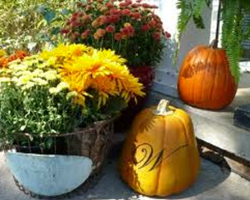 Dress up your monogrammed pumpkin by adding a few smaller or larger pumpkins as decorative accents.
Fort Lee, New Jersey (PRWEB) October 05, 2013
Pumpkin carving, a tradition brought to the United States in the mid 1800s by Irish Catholic immigrants, has evolved over the past century and a half. Today, pumpkin carving has become a veritable art form for some, although most moms and dads create something along the lines of the traditional scattered-tooth, triangle eye variety that still can add a bit of charm to a front porch. In the latest blog from MommyHotSpot.com titled, "Not Your Traditional Pumpkin," Marble Media LLC blogger Kathryn B. offers some fun twists on pumpkin decorating that anyone can do.
The tradition of carving pumpkins into jack-o'-lanterns originated with Irish children who first carved out the centers of rutabagas, turnips and potatoes and placed candles inside. The switch to pumpkins happened when they arrived in America and discovered the round orange squash-like fruit, and Americans have enjoyed carving pumpkins ever since.
"Every year since our daughter was born, we have done the original pumpkin carving ," Kathryn says. "But last year I decided try something a little different, in addition to the carved pumpkin I, I would try monogramming one too."
"I had seen quite a few, and they looked really neat so of course I wanted to try my own."
Kathryn turned to a crafty friend for guidance on creating her first monogrammed pumpkin. She became good at the DIY project, and began making them for friends and family.
To create a beautiful monogrammed pumpkin, amateur artists need the following supplies:

A decorative medium sized pumpkin (available at any craft or discount store)
Adhesive-backed, printable vinyl
Printer capable of accommodating monograms
Acrylic paint (if you choose to paint the pumpkin a different color)
"Choose a bold script for the monogram and print it out on the vinyl," Kathryn says. "Next, apply the monogram to the pumpkin; plan in advance the exact placement you have in mind so there is no risk of messing it up after it's in place.
"If you choose you can dress up your monogrammed pumpkin by adding a few smaller or larger pumpkins as decorative accents."
By viewing additional pumpkin design ideas on the Internet or in craft stores, anyone can create personalized pumpkins that suit their personal taste.
Mommyhotspot.com is a great place to find new ideas and get answers to parenting questions, and advice for child raising conundrums. For more information, visit the Mommyhotspot.com website or email info(at)mommyhotspot(dot)com.
About Marble Media LLC:
Marble Media LLC is a creator of high-quality, content-rich blog sites that provide expansive coverage of relevant information to readers who make up a wide range of demographics. The Marble Media LLC team of expert writers covers a wide range of specialties including travel, food, health, fitness, social media, marriage, parenting, technology, weight loss, fashion and much more.
For more information on Marble Media LLC's offerings and advertising opportunities, visit the MarbleMediaLLC.com website, or email sales(at)marblemedia(dot)com.