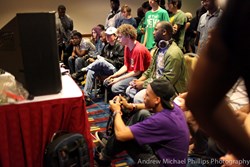 This Career Fair is an opportunity for companies and colleges to connect to the most dedicated and capable fanbase in the world.
Atlanta, GA (PRWEB) January 31, 2014
MomoCon is traditionally known for bringing thousands of fans of anime, animation, and video gamea together for a weekend full of entertainment and community with celebrity and industry guests. For the 10th year, which is projecting to be the largest MomoCon to date, the event will host a free and publicly-accessible career fair designed for companies and colleges who make, design, or teach the games and animation that the crowd of over 15,000 people is most passionate about.
To achieve this goal, MomoCon has launched a Kickstarter to raise awareness and garner more interest from the broader community to participate. The Kickstarter, which will end on February 15th, has already caught the attention of many industry recruiters and local game companies. Even after the Kickstarter deadline, the career fair signups will be open for both colleges and companies who would be interested in participating. For the general public, this career fair will take place Thursday, May 22nd, at the Hilton Atlanta from 12PM until 5PM EST, ahead of the official MomoCon 2014 event Friday, May 23rd until Sunday, May 25th.
Interested companies, recruiters, and colleges can contact MomoCon directly at info(at)momocon(dot)com or through the Kickstarter campaign online here: https://www.kickstarter.com/projects/momocon/college-and-game-career-fair-hosted-by-momocon