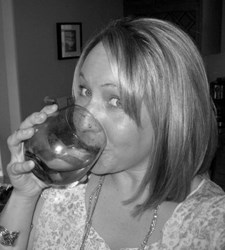 I am beyond thrilled to be mentioned among these hilarious and witty bloggers
Bellingham, WA (PRWEB) October 30, 2013
Erin Lundstrom, founder and blogger at Moms Who Wine, a bold and aromatic blend of confessions and humor from a ripe and balanced working mom—aged 36 (gasp!) years, almost fell off her chair with excitement when she discovered she was featured in top parenting site Red Tricycle Seattle. Red Tricycle offers cool ideas and fun things to do with kids as well as great articles and information for successful parenting.
The story, titled, "Seattle Parenting Bloggers Who Put the "L" in LOL," features six of the funniest must-read parenting blogs. Moms Who Wine is number three on the list.
Red Tricycle author Katie Kavulla (who blogs at Being5.com) wrote, "With a blog name like this, you know that you're going to have some fun on Moms Who Wine! Mom of two, Erin, gives you a parenting reality check in every single post and we crack up every single time. Save Moms Who Wine for when you have an actual glass of vino in hand. A blog that comes with a recommended drink? Yes, please."
"I am beyond thrilled to be mentioned among these hilarious and witty bloggers!" said Lundstrom. "I started blogging as a way to deal with the frustrations and challenges of being a working mom, (and to Whine and wine!) but the responses I have gotten clearly show there is a need for honest (however embarrassing) and relevant parenting information.
Moms Who Wine welcomes any nutty, witty, self-loathing, tired or hilarious blogger to guest blog on the site- but honesty is a must, and embarrassing stories are even better! (Wine drinking is a plus!)
In honor of the shout-out on Red Tricycle, Moms Who Wine is now pairing blog posts with the perfect wine! "If it's a sweet post, we'll suggest a Riesling? Something dark and disturbing..perhaps a Cabernet? Terribly embarrassing….we'll go straight to tequila!" says Lundstrom.
Stay-tuned for Moms Who Wine's first giveaway—a $120 jar of apeil skin rejuvenating cream.
For more information Like Moms Who Wine on Facebook and follow us on Twitter @momwhowines
About the Author
Erin Lundstrom lives in northwest Washington and works as a marketing consultant for a global PR Software company. Along with blogging, Erin offers freelance writing, editing, blogging and SEO services as well as consulting services for social media marketing. Erin is also an independent distributor of the AdvoCare line of nutritional supplements. Married for 11 years and mother to a 7 year old boy and 4 year old girl, Erin is aware of the issues that affect working moms and is eager to provide a voice to these concerns. momswhowine.me