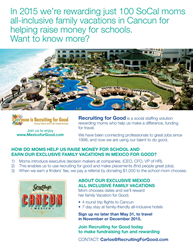 Join us to help fund schools and enjoy Mexico Vacations for Good
Santa Monica, CA (PRWEB) April 16, 2015
Recruiting for Good a staffing solution using recruiting collaboratively to make fundraising fun for Southern California moms who participate to help raise money for schools. And rewards Mexico vacations.
Why Fundraising for Schools?
It is necessary to continue to fund, develop, and invest in educational programs to prepare kids for tomorrow's jobs. Moms work in PTA, organizing fundraisers all year long to pay for much needed staff, and to improve the quality of education for kids. Fundraising solutions have become an integral part of how schools maintain and support educational programs.
Making Fundraising Fun and Rewarding for Moms
"We are using recruiting for good collaboratively to help moms raise funds for schools. A mom simply introduces an executive she knows, we get retained for a search, and we use our talent to find the company a new employee, and when we earn our finder's fee; we donate $1,000 to mom's school, and reward her a fun all-inclusive vacation in Mexico, for helping us make a difference," says Recruiting for Good founder Carlos Cymerman
About
Recruiting for Good is a staffing solution, helping people; find great jobs, make a difference and earn travel rewards. We make life fund and rewarding. Since 1998, Recruiting for Good, has helped companies find great candidates. For more information about using recruiting for good, check out http://www.RecruitingforGood.com. We look forward to rewarding moms who participate to help fund schools.