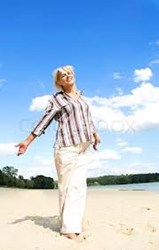 Des Moines, IA (PRWEB) August 13, 2013
It's August, and the sun is shining, the pool is calling, yet how can you stay cool – and healthy - as the mercury rises? As we age, our bodies lose the ability to deal with the heat, which puts us at higher risk for heat-related illness.
According to the experts at Mom's Meals, everyone over age 30 (yes, 30!) should take steps to prevent heat stress. Heat stroke, cramps, rashes, and the worsening of pre-existing medical conditions can all be caused by too much heat.
But what can be done to keep cool while enjoying the sunny weather? Mom's Meals offers these suggestions.
Stay hydrated. For many, especially seniors, it becomes more difficult to realize when they are thirsty. It may sound strange, but our sense of thirst diminishes as we age, and this means seniors may be more dehydrated than they realize.
Pay attention to your urine, if it is dark or has a strong odor, drink more water. In addition, be conscious of how much fluid you take in during the day. If spending time outdoors, those eight glasses of water a day just aren't enough. Aging kidneys do not keep fluids in the system as well, meaning it is important to drink even more water than normal if out in the heat.
Pay attention to the weather and heat warnings. Even if you do not feel old, it is important to pay attention to weather predictions. Any time the weather is over 98-degrees, stay indoors and cooled; if over 86-degrees, take precautionary steps, such as those listed to stay cool.
Know your risks. Many seniors put themselves in unnecessary risk simply because they do not know their risks. Certain medications can increase the risk of heat stress. If you are unsure about your risk factor, consult a physician to review your medications. You may need to adjust dosage, or avoid certain medications during the hotter summer months.
Eat foods high in water content. Many seniors struggle to consume enough water during the day because they do not feel thirsty. Combat this with a diet that is low in sodium and high in water content to help the body stay hydrated. Mom's Meals offers a variety of healthy, freshly prepared meals that can help seniors stay cool during the summer.
Cool your body down. The elderly can keep cool as the mercury rises by being indoors, using air conditioning, sitting in front of fans, placing cool cloths on the skin, and even taking a cool shower if the body starts to overheat.
Know the signs of heat stress. If you are cognizant of the signs of heat stress, you can take measures to self-correct if you find yourself at risk. Signs of heat stress include hot and dry skin, headaches, cramps, dizziness, and disorientation. If you are a caregiver, check your loved one at least twice daily.
Take it indoors. Be social inside, exercise inside, and stay out of the sun during the hottest part of the day. If you do not have air conditioning in your home, visit a store, shopping mall, library, or senior center to get a respite from the heat.
Mom's Meals strives to be the leading expert and provider of senior and patient nutrition to help support health and recuperation and nourish independence at home for higher quality living. The company is dedicated to providing fresh-made, nutritious, home-delivered meals to customers nationwide and has specialized in senior and patient care for over 13 years. Mom's Meals are available for customers on specific diets including heart-healthy meals that are both low sodium and low fat, diabetic-friendly meals with 60 carbs or less, renal meals, and vegetarian and gluten-free choices. Mom's Meals prepares, packages, and delivers ready-to-heat and eat meals directly to a customer's door anywhere in the United States.