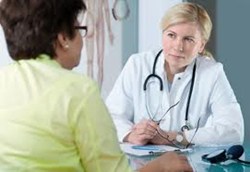 Des Moines, IA (PRWEB) August 15, 2013
Asking the right questions at your regular doctor's visits could save your life.
While it may not be as dire as a life and death situation, many health issues can be prevented with better communication between doctor and patient.
Mom's Meals offers a few questions to ask your physician:
1. Should I be taking daily aspirin? Aspirin has been shown to help prevent strokes and heart attack, but if you have problems including stomach ulcers, if you take blood thinners or have clotting issues, it may be unwise. Talk to your doctor about it to find out if it is right for you.
2. What about nutrition? As we age, our nutritional needs change, too. Be sure to talk to your doctor or a dietitian about the right, healthy choices for you, especially if you also have kidney disease, diabetes or heart disease.
3. When should I get a mammogram, pap smear, or colon cancer test? Screenings are important, but how regularly you are screened depends on your personal, medical, and family history. There are risks and benefits associated with various screenings. Ask about those to determine what is right for you.
4. Should I be worried about my current weight? A physician can help you find ways to get to a healthy weight, or maintain a healthy weight. It is especially important to talk to your doctor if you have trouble controlling your weight. A referral to a dietitian or nutritionist, a weight loss plan, or a menu plan can be very beneficial.
5. Am I drinking too much? Studies have shown that moderate consumption of wine can protect against heart disease, but too much drinking can lead to cognitive impairment and other health concerns. Talk to your doctor about your alcohol consumption.
6. Am I experiencing normal sadness, or could this be a sign of depression? Many seniors suffer from depression. If you are feeling listless, lonely, sad, or unmotivated, talk to your doctor about energy levels, sleep patterns, diet, exercise, and more to determine if you need help. Your doctor may test you for thyroid disease, or help you get treatment, including lifestyle changes to help you avoid depression. Often, proper nutrition and an exercise regime is all it takes to get back to your happy self, but you may need something more.
The more you ask, the more likely you are to be well-informed, and be able to make the right choices for you, your health, and your values.
Mom's Meals strives to be the leading expert and provider of senior and patient nutrition to help support health and recuperation and nourish independence at home for higher quality living. The company is dedicated to providing fresh-made, nutritious, home-delivered meals to customers nationwide and has specialized in senior and patient care for over 13 years. Mom's Meals are available for customers on specific diets including heart-healthy meals that are both low sodium and low fat, diabetic-friendly meals with 60 carbs or less, renal meals, and vegetarian and gluten-free choices. Mom's Meals prepares, packages, and delivers ready-to-heat and eat meals directly to a customer's door anywhere in the United States.