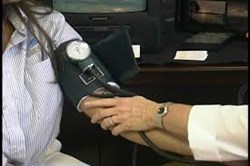 Des Moines, IA (PRWEB) August 21, 2013
At risk for kidney disease?
One in nine Americans has kidney disease today, and if there is a family history of kidney disease, high blood pressure, or diabetes, the risk is even greater.
Today, more than 26 million Americans suffer from renal disease, which can lead to serious complications and premature death. But if caught and treated early, the risks are greatly reduced.
Mom's Meals, which prepares and delivers renal-friendly meals to the customer's door, offers tips on how to check for kidney disease, and steps which may help prevent the onset.
1. Have blood pressure checked regularly.
High blood pressure is not only a symptom of kidney disease, but also the second common most cause. To lower the risk for kidney disease, as well as heart disease and stroke, strive to keep your blood pressure at 130/80 or below. Blood pressure of 140/90 is considered high.
2. Eat the right foods
Whether you have kidney disease today, or are working to prevent its onset, eating the right food is crucial. Mom's Meals delivers renal-friendly meals to customers' doors, and all meet the strict guidelines of a renal diet, which can often be both frustrating and time-consuming. The company makes it easy by providing fully-prepared meals designed by renal dietitians to support the unique nutritional needs recommended for most patients with kidney disease who are on hemodialysis, home dialysis or peritoneal dialysis.
3. Test urine for protein.
An excellent test for early detection of kidney disease is with a simple urine test. If your urine has protein in it, it may be an early indication of kidney disease. This is very common in those with diabetes and a physician can easily provide this simple test.
4. Do a blood test for GFR (glomerular filtration rate).
This test measures how well your kidneys are filtering your blood. An estimate of your "filtering rate" is determined by blood creatinine test, measuring the amount of creatinine -- a waste product – is in your blood. This simple test, along with your age, body size, and gender, provides an estimate of your GFR, or "filtering rate," and can help diagnosis normal or low kidney function.
If you fit in the "high risk" category, it is important to test annually. Early detection and treatment, as well as the right diet, can play a significant role in managing kidney disease.
Mom's Meals strives to be the leading expert and provider of senior and patient nutrition to help support health and recuperation and nourish independence at home for higher quality living. The company is dedicated to providing fresh-made, nutritious, home-delivered meals to customers nationwide and has specialized in senior and patient care for over 13 years.
Mom's Meals are available for customers on specific diets including heart-healthy meals that are both low sodium and low fat, diabetic-friendly meals with 60 carbs or less, renal meals (based on National Kidney Foundation (NKF) guidelines for Stage 5 hemodialysis, home and peritoneal dialysis patients), and vegetarian and gluten-free choices. Mom's Meals prepares, packages, and delivers ready-to-heat and eat meals directly to a customer's door anywhere in the United States. More information is available by calling 877-508-6667.