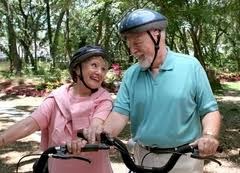 Taking action in diet and exercise can help all of us live healthier lives, and may even help prevent Type 2 diabetes from consuming our lives.
Des Moines, IA (PRWEB) August 27, 2013
Let's face it; diabetes today has become common among all of us, with the numbers telling the story.
According to the American Diabetes Association (ADA), more than 18- million Americans lived with diabetes in 2002, and today, nearly 26-million share the statistic. For those ages 65 and older, 27% now have this complicated disease.
A study published in the Archives of Internal Medicine shows that seniors diagnosed with Type 2 diabetes are twice as likely as their peers to suffer from depression. And with the high number of seniors now with diabetes, and more being diagnosed each year, it is important to understand what can be done about it.
"The bottom line is that none of us should let diabetes get us down," said Rick Anderson, President of Mom's Meals, a company which delivers meals, including diabetic-friendly meals, to customers' doors. "Taking action in diet and exercise can help all of us live healthier lives, and may even help prevent Type 2 diabetes from consuming our lives."
Diabetes increases the risk for heart disease, stroke, blindness, dental problems, and depression, as well as many other conditions.
What should you be doing to insure diabetes does not get your down?
Mom's Meals offers these tips:
1. Exercise.
Lack of exercise and an unhealthy diet are two of the key contributing factors for seniors with diabetes who also suffer from depression. A regular exercise program can help to maintain weight, and lower the risk of depression in diabetics. Something as simple as walking through a mall on a regular basis "counts" as exercise. And exercise has another benefit as it releases serotonin, which influences our mood. The higher our serotonin levels, the less down we should feel.
2. Eat a healthy diet that helps regulate blood sugar.
Diet plays a significant role in both diabetes and depression. Poor diet, and being overweight, may trigger diabetes in an elderly person. And, poor diet can also lead to depression.
Meal planning, eating foods that help to regulate blood sugar, and staying on top of mealtimes reduces the risk for side effects, and makes managing diabetes easier. Many of us struggle to shop for ourselves and prepare healthy meals. Limited mobility, arthritis, and poor access to fresh foods can make a healthy diet challenging for seniors.
Mom's Meals can help overcome these obstacles by providing fresh, home delivered meals, with the carb count clearly marked on each of their diabetic-friendly offerings.
3. Take prescribed medications.
If you are a diabetic, managing the disease is essential to not suffering additional side effects, including depression. Staying on top of prescribed medications and treatments improves health, both mental and physical.
4. Socialize more.
A great way to keep diabetes from getting you down is to make socializing part of your daily routine. Not only will regular social interaction help make regular meal times more fun, as well as exercise, it will also keep you from feeling listless, lonely, and isolated.
Mom's Meals strives to be the leading expert and provider of senior and patient nutrition to help support health and recuperation and nourish independence at home for higher quality living. The company is dedicated to providing fresh-made, nutritious, home-delivered meals to customers nationwide and has specialized in senior and patient care for over 13 years.
Mom's Meals are available for customers on specific diets including heart-healthy meals that are both low sodium and low fat, diabetic-friendly meals with 60 carbs or less, renal meals (based on National Kidney Foundation (NKF) guidelines for Stage 5 hemodialysis, home and peritoneal dialysis patients), and vegetarian and gluten-free choices. Mom's Meals prepares, packages, and delivers ready-to-heat and eat meals directly to a customer's door anywhere in the United States. For more information, call 877-508-6667.