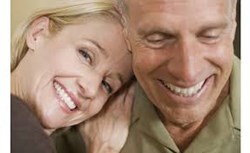 Des Moines, IA (PRWEB) September 10, 2013
It's September and it's also "Healthy Aging Month." So stop for a moment and think about yourself and your loved ones. Is everyone aging in a healthy way? And if not, why?
It's a fact of life: as we get older, our bodies just don't work as well. Muscles and joints start to ache. Memory falters. Balance diminishes. Eyesight and hearing often begin to need extra attention.
Although some decline is a natural part of aging, much is preventable.
Mom's Meals, which delivers healthy, nutritious food to customers' doors, offer three tips to ensure healthy aging, or even just a slowing down of some of the decreases in health and vitality that occur as we age.
1. Eat well. Diet is a vital part of healthy aging and what we put into our bodies plays a significant role in how well our bodies function. Whether one prefers a gluten-free diet, vegetarian, or is on a restricted diet due to diabetes or kidney disease, Mom's Meals offers a wide variety of fresh made, nutritious meals, designed my Registered Dieticians, and delivered right to your door. If you don't like to shop and cook, or if those chores have become too difficult to navigate, having meals delivered may be the best option.
2. Get plenty of rest. Sleeping well and getting plenty of rest is essential for both physical and emotional well-being. Sleep is a critical component in concentration and memory, body recovery and repair, immune system boost, and mood elevation. How well someone sleeps can often be looked at as a barometer for their overall health.
As we age, it's even more important to get plenty of rest at night. Not only can it promote healthy aging, but it can reduce the risk of falls, and of many serious health problems including cardiovascular disease. Experts say seniors should get 7-9 hours of sleep each night.
3. Stay social. Unlike a healthy diet and rest, which primarily impact physical health, staying social is more about our mental health and overall outlook. It is crucial to understand that the mental health of an individual can greatly influence physical health. When we're depressed, lonely, or anxious, these mental factors can impact healthy aging.
Staying buoyed mentally is often a struggle, for senior and for caretakers. Losing loved ones, facing a new housing situation, or living far from relatives can take a toll.
Staying social can help maintain positive attitudes toward these changes. It is crucial to look for ways to stay intellectually and socially stimulated, through classes, community involvement, attendance at regular religious or spiritual groups, taking time for a walk with others or sharing a meal with friends.
Mom's Meals strives to be the leading expert and provider of senior and patient nutrition to help support health and recuperation and nourish independence at home for higher quality living. The company is dedicated to providing fresh-made, nutritious, home-delivered meals to customers nationwide and has specialized in senior and patient care for over 13 years. Mom's Meals are available for customers on specific diets including heart-healthy meals that are both low sodium and low fat, diabetic-friendly meals with 60 carbs or less, renal meals, and vegetarian and gluten-free choices. Mom's Meals prepares, packages, and delivers ready-to-heat and eat meals directly to a customer's door anywhere in the United States. To order, call 1-877-508-6667.