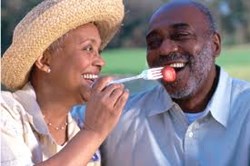 Des Moines, IA (PRWEB) September 19, 2013
It's a startling fact brought to attention by the American Dietetic Association (ADA); most seniors only get a third of the nutritional requirements needed to maintain good health.
For many of us, aging is accompanied by a slow loss of mobility, arthritis, and other factors that can turn food shopping, meal preparation, and healthy eating into hefty challenges.
With a properly balanced diet, it is possible to reduce the risk of osteoporosis, heart disease, high blood pressure, and some forms of cancer. Focusing on nutrition can also make managing diabetes easier, reduce the risk of anemia, and lead to healthier skin and greater vitality.
Mom's Meals, committed to the good health of seniors, offers the following tips for maintaining good nutrition as we age.
1. Taste the rainbow.
Seniors should aim to have a colorful plate, with plenty of fresh fruits and vegetables, providing a variety of nutrients and needed vitamins and minerals. Fresh fruits, vegetables, whole grains, and lean proteins should make up the bulk of the diet.
2. Cut back on calories, not nutrition.
One of the biggest problems we face as we age is that we typically need fewer calories, but instead of eating less, we eat less nutritious foods. Take the time to cut out the junk and look instead for nutrient rich, low calorie foods, and avoid chips, cookies, candy, soda, and anything highly processed, which can lead to decreased health.
3. Make good health easy.
If arthritis, mobility, and energy are issues, consider buying fruits and vegetables that are pre-cut, pre-washed, and ready for use, sparing you from gripping knives, or having to prepare the foods. If preparing food is challenging because you are on a restricted diet, or other health, economic, or mobility factors come into play, consider home delivered meals from Mom's Meals, which are freshly prepared and designed specifically to meet the health and nutrition needs of seniors.
4. Pay attention.
Often seniors do not eat full meals, but rather snack throughout the day. While this can have benefits, one of the drawbacks is not paying attention to what you are eating, and possibly missing whole food groups, or essentials. Pay attention to what you are eating and be sure to get good sources of iron, protein, healthy fats and calcium each day.
5. Ask for assistance.
Talk to your doctor and find out if you are eligible for nutritional programs or government financial assistance. Sometimes good nutrition becomes challenging as individuals age because of factors unrelated to diet. Difficulty chewing, choking concerns, the rising cost of nutritious foods, lack of access to foods can all lead to a diet that does not meet a senior's nutritional needs. Talking to your doctor, and looking for other helpful resources can make good foods easier to eat, and more readily available.
Mom's Meals strives to be the leading expert and provider of senior and patient nutrition to help support health and recuperation and nourish independence at home for higher quality living. The company is dedicated to providing fresh-made, nutritious, home-delivered meals to customers nationwide and has specialized in senior and patient care for over 13 years.
Mom's Meals are available for customers on specific diets including heart-healthy meals that are both low sodium and low fat, diabetic-friendly meals with 60 carbs or less, renal meals, and vegetarian and gluten-free choices. Mom's Meals prepares, packages, and delivers ready-to-heat and eat meals directly to a customer's door anywhere in the United States. For more information, call 1-877-508-6667.