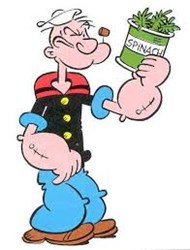 Seniors often struggle to get the needed fruits and vegetables in their daily diet. Home delivery services like Mom's Meals can make a difference to them and to their caregivers.
Des Moines, IA (PRWEB) September 24, 2013
That lovable carrot munching bunny and the iconic spinach-guzzling sailor were on to something.
Eating enough fruits and vegetables, particularly leafy greens like spinach, has been linked, time and time again, to a longer life and a higher quality of life. In fact, a study recently conducted in Sweden showed that eating fewer than five servings of fruit and veggies each day is linked to a higher chance of early mortality.
The study, published in the American Journal of Clinical Nutrition, showed the five-a-day recommendations were optimal, according to a researcher on the project at the Karolinska Institute in Stockholm.
The results are based on data collected from more than 71,000 Swedes, aged 45 to 83, who were followed for 13 years.
"Yes, Popeye had it right with the spinach," said Rick Anderson, president of Mom's Meals, a company that delivers fresh-made meals to the homes of those who can no longer shop or cook for themselves. "We design our meals to have an abundance of the freshest, healthiest ingredients we can find, and we get constant feedback from customers about how much they appreciate it."
Does this mean eating fruits and veggies will prolong lives? Not necessarily. But a diet rich in fruits and vegetables is always healthier than one filled with processed foods.
Of course, other factors play a role, too, including gender, smoking, exercise, alcohol consumption, as well as weight, but with all that taken into account, those who reported eating at least five servings of fruit and vegetables daily did live longer, according to the Swedish study.
While starting young with a diet rich in fruits and vegetables certainly has health benefits, it is never too late to improve your diet by incorporating more fruits and veggies into it. Registered dietitians suggest trying oranges, kiwis, apples, bananas and berries, or vegetables including radishes, carrots, beets, lettuce, cabbage, tomatoes, and of course, leafy greens like kale and spinach.
Mom's Meals heart-healthy menu follows guidelines from the American Heart Association, with less than 600 mg of sodium per meal. Favorites include Grilled Chicken Breast with Herbed Potatoes and Broccoli and our Salmon Patty with Rice Pilaf, Seasoned Peas and Pearl Onions.
"For those who are home-bound, and for those taking care of them, making meals like this on a regular basis can often be impossible," said Anderson.
"Many seniors struggle to get the needed fruits and vegetables in their diet. Irregular trips to the grocery store, dietary restrictions, and struggles with dental issues can make it a challenge for seniors to get the recommended five daily servings," said Anderson. "Using a home delivery meal service like ours can insure regular delivery of fresh foods, and the adequate servings of fruits and vegetables to help prolong life and improve health."
Mom's Meals strives to be the leading expert and provider of senior and patient nutrition to help support health and recuperation and nourish independence at home for higher quality living. The company is dedicated to providing fresh-made, nutritious, home-delivered meals to customers nationwide and has specialized in senior and patient care for over 13 years.
Mom's Meals are available for customers on specific diets including heart-healthy meals that are both low sodium and low fat, diabetic-friendly meals with 60 carbs or less, renal meals, and vegetarian and gluten-free choices. Mom's Meals prepares, packages, and delivers ready-to-heat and eat meals directly to a customer's door anywhere in the United States. For more information, or to order Mom's Meals, call 1-877-508-6667.