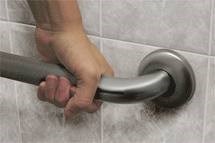 Making the kitchen a more efficient work space can help reduce falls, but when food preparation becomes too hazardous, consider having nutritious meals delivered from Mom's Meals.
Des Moines, IA (PRWEB) October 03, 2013
The health of those we love, especially as they age, is of primary concern.
Believe it or not, falls are the second leading cause of accidental death in the U.S., yet they are an often overlooked problem for seniors. Seventy-five percent of all falls occur in the senior population and statistics show that falls can lead to significant health declines.
Falls are the most common cause of hospital admission for trauma, and the most common cause of injury among seniors. Hospitalization due to falls occurs five times as much as from any other cause of injury. It should come as no surprise that the majority of falls occur in two rooms of the house; the bathroom and the kitchen.
Mom's Meals provides tips for how to prevent falls, allowing seniors a higher quality of life:
1. Eliminate household hazard like hard to see steps and throw rugs, which can be the cause of a majority of falls. Seniors should eliminate throw rugs, or make sure they are securely in place so that they do not slide or move, causing an obstacle.
2. Meal preparation can be particularly precarious, as water or oil may splatter, leaving the floor slippery. Making the kitchen a more efficient workspace can help reduce falls but when food preparation becomes too hazardous, consider having nutritious meals delivered from Mom's Meals. Meals only need to be heated and served, eliminating extra hazards in the kitchen.
3. Make the bathroom safer with grab bars and non-slip mats. Adding hand rails, non-slip surfaces, grab bars, and even going as far as changing out tubs to allow for entry without having to step over a barrier is very helpful. Permanent grab bars should be installed by the shower, toilet and tub. Shower seats can be very helpful, as well as adding good lighting and non-skid mats.
4. Make walkways safer. Clear clutter and other hazards that could cause a trip and fall. Stairs, walking paths, and hallways in the home should be well lit so that seniors can traverse them without peril, especially at night.
5. Wear well-fitting shoes and clothes. Shoes that are too big, bathrobes or night wear that drags, pants that are too long, etc. can all lead to tripping, slipping, and falling. Consider wearing fitted slippers with a non-slip sole during the day, and choosing clothing that does not drag on the ground.
Mom's Meals strives to be the leading expert and provider of senior and patient nutrition to help support health and recuperation and nourish independence at home for higher quality living. The company is dedicated to providing fresh-made, nutritious, home-delivered meals to customers nationwide and has specialized in senior and patient care for over 13 years.
Mom's Meals are available for customers on specific diets including heart-healthy meals that are both low sodium and low fat, diabetic-friendly meals with 60 carbs or less, renal meals, and vegetarian and gluten-free choices. Mom's Meals prepares, packages, and delivers ready-to-heat and eat meals directly to a customer's door anywhere in the United States. For more information, or to order Mom's Meals, call 1-866-508-6667.