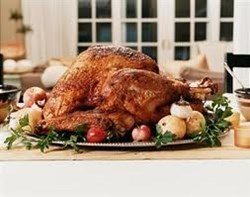 We all love Thanksgiving, but for the rest of the year, Mom's Meals heart-healthy menu has meals with 600-mg or less of sodium, and feedback has been nothing less than stellar.
Des Moines, IA (PRWEB) November 21, 2013
The last thing anyone wants to hear before Thanksgiving is diet advice. But if you want to ensure a better chance that you'll celebrate many more holiday seasons, consider cutting back on sodium, starting now.
Heart disease, cardiovascular disease, high blood pressure, stroke, and other heart-related ailments are America's number one killer.
A recent study conducted at the University of Michigan's Clinical Research Unit, showed that healthy eating habits can significantly reduce high blood pressure and improve heart function, even in heart failure patients.
"We all look forward to sharing a feast with those we love," said Rick Anderson, president of Mom's Meals. "But that doesn't mean we can lose sight of what's most important to our health, especially if we want many more years with those gathered around the table. Cutting back on salt, which hides in so many of our foods, is crucial."
The Michigan study had patients only eat meals prepared for them in the kitchen of the university's Clinical Research Unit, and according to the National Institute of Health's DASH (Dietary Approaches to Stop Hypertension) recommendations. Meals were high in potassium, magnesium, calcium, and antioxidants, and low in sodium, with just 1,150 milligrams or less, far lower than the average intake of an American adult of 4,200 mg a day for men and 3,300 a day for women.
Most participants in the study were in their 60s and 70s.
In the study, participants only ate the provided diet, which met the recommendations for high blood pressure treatment by the American Heart Association and the U.S. National Institutes of Health. After three weeks, they saw a drop in blood pressure, similar to that achieved by taking medication for the condition, suggesting that diet plays an important role in the progression of heart failure.
"It is interesting to note that a change was seen in only three weeks," said Anderson. "Our heart-healthy menu has meals with 600-mg or less of sodium, and feedback on their taste has been nothing less than stellar."
Mom's Meals strives to be the leading expert and provider of senior and patient nutrition to help support health and recuperation and nourish independence at home for higher quality living. The company is dedicated to providing fresh-made, nutritious, home-delivered meals to customers nationwide and has specialized in senior and patient care for over 13 years.
Mom's Meals are available for customers on specific diets including heart-healthy meals that are both low sodium and low fat, diabetic-friendly meals with 60 carbs or less, renal meals, and vegetarian and gluten-free choices. Mom's Meals prepares, packages, and delivers ready-to-heat and eat meals directly to a customer's door anywhere in the United States. To order Mom's Meals, call 1-877-508-6667.