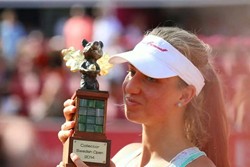 It is my lucky dress and I will not change it unless I loose
Miami, FL (PRWEB) July 23, 2014
Today, professional tennis player Mona Barthel accepts the Swedish Open champion's trophy looking as elegant as she plays. She is dressed in what she calls her "Lucky Dress." It is a combination of a captivating calypso green and a sporty white lace. The designer behind the dress is Miami based, but Swedish, fashion designer Denise Cronwall.
Mona had to win five matches to get this important title that will take her up 20 positions in the WTA rankings. She wore the same dress in every one of those matches. "It is my lucky dress and I will not change it unless I lose," was Mona's comment earlier this week.
Mona has been playing in Denise Cronwall's line since US Open 2012 and has won other important titles since then but this one is particularly special for Denise as the tournament is played in her hometown in Sweden. "It was a very special moment for me to see Mona win this title wearing one of my designs and in my hometown! I felt full of pride," says Denise.
Denise Cronwall's signature style is as always present in the elegant use of lace and piping details. The Calypso Tennis Dress worn by Mona has been one of the best sellers this summer.
About Denise Cronwall Activewear
Denise Cronwall started her eponymous boutique-style activewear line in 2010 and it quickly gained a following in South Florida and has now expanded to 100+ select stores throughout the US. Denise Cronwall's designs that combines her trademark detailing and lace are refreshing in a sea of outfits dominated by only a few manufacturers. These feminine designs can be used for tennis, gym, yoga, running and more. For more information, please visit http://www.denisecronwall.com.