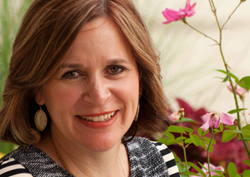 "Men have the little blue pill - now women have the MonaLisa Touch." - Susan Harris
Coppell, TX (PRWEB) August 27, 2015
Susan Harris and the team at LifeStream Health Centre & MedSpa announce a cutting edge procedure to relieve vaginal discomfort due to pre- and post-menopause, chemotherapy, and child birth.
The MonaLisa Touch is a unique and revolutionary treatment using a CO2 laser, which delivers controlled energy to the vaginal tissue, revitalizing cells so they make more collagen, an essential component in vaginal cell health.
Vaginal discomfort such as irritation, dryness, burning, urinary incontinence, and painful intercourse can occur during pre-menopause, post-menopause or after chemotherapy or child birth. The main cause is often atrophic vaginitis, a disease that can adversely affect women's lives and the relationship with their partner.
A typical course of treatment is three procedures over 18 weeks. It's done in the LifeStream office and takes less than five minutes. No anesthesia is needed and it's virtually painless. Patients experience no down-time or side effects and most reported symptom relief after the very first treatment.
You don't have to suffer in silence! Contact Susan Harris at LifeStream Health Centre & MedSpa for more information on this groundbreaking treatment. "Men have the little blue pill - now women have the MonaLisa Touch." - Susan Harris
Susan Harris is board certified as a Nurse Practitioner (APRN, CNM, FNP-C) and obtained a Master of Science in Nursing (MSN) from Case Western Reserve University. With an integrative approach to medicine, Susan takes the best of Western science and combines it with a broader understanding of the nature of illness, healing, and wellness. Susan and LifeStream are focused on a highly individualized, deeply connected experience for long-term wellness. The MonaLisa Touch has been a wonderful addition to the other services they offer to keep their patients living fuller lives.
For more information about LifeStream Health Centre & MedSpa and to see if The MonaLisa Touch is right for you, call (972) 304-6400 to schedule an appointment or visit their website at LifeStreamMed.com.
About LifeStream Health Centre & Med Spa
LifeStream Health Centre & Med Spa is an integrative medicine practice focused on a highly personalized, deeply connected experience for long-term wellness. Susan Harris, MSN, CNM, FNP-C along with her team of friendly staff and Medical Director, Brandon Charles, MD bring compassion and care to medicine. They are located at 705 Main Street, Coppell, Texas 75019. To learn more, call 972-304-6400 or email info(at)lifestreammed(dot)com. You may also visit their website at http://www.lifestreammed.com.