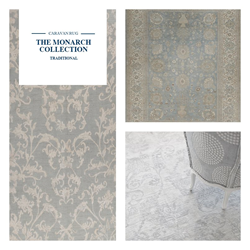 Caravan Rug is proud to reveal their new collection of gorgeous area rugs, the Monarch collection.
Los Angeles, CA (PRWEB) April 28, 2014
Caravan Rug Corp. is one of the largest and most respected rug manufacturers and distributors in Los Angeles. Highly regarded for their dedication to top quality, beautiful handmade rugs, Caravan Rug is a company that truly seeks to spread beauty throughout the lives of its customers. Caravan Rug is proud to reveal their new collection of gorgeous area rugs, the Monarch collection. The unveiling of the Monarch Collection adds yet another stunning collection of luxury area rugs to Caravan's impressive arsenal.
The Monarch Collection features hand knotted wool rugs in a variety of color schemes and patterns. Each handcrafted wool rug is imported from Pakistan, and celebrates the time honored tradition of traditional rug design. These fine area rugs feature either a Mamluk, European, or Persian design motif, and range from soft, blue color schemes, to warm, reds. Whether you like European accents or traditional and ornate persian designs with intricate patterns, the luxurious area rugs of the Monarch Collection are lovely additions to Caravan Rug's selection of wool rugs for the home.
Despite the fact that these beautiful area rugs are offered at a highly affordable price, they are painstakingly handcrafted and hand knotted from 100% wool from Pakistan.
These top quality, handmade wool rugs are available on Caravan's newly updated website, under the traditional category.
Each of Caravan's handmade rug collections, including the Monarch Collection, are on display at Caravan's newly-remodeled showroom at 8725 Wilshire Boulevard, Beverly Hills, CA 90211, as well as on their online rug store.
Known for decades in the Los Angeles area for a commitment to importing only the finest handwoven rugs that honor centuries-old methods, Caravan has a huge selection of area rugs available in traditional, turkish, persian, oriental, and modern styles.
-Brought to you by TRIXMEDIA :Creating Possibilities
Beverly Hills Branding Agency