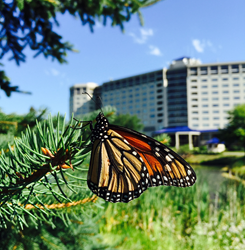 A new socially-conscious spa experience.
Oak Brook, IL (PRWEB) September 20, 2016
The Monarch Spa is officially open and taking reservations at the newly renovated Oak Brook Hills Resort. Surrounded by Monarch butterfly waystations that dot the hotel's serene 150-acre Audubon sanctuary, Monarch Spa presents a new oasis for peace and relaxation in the middle of the western suburbs. In partnership with Windy City Massage, Monarch Spa's menu items range from custom massages and facials to a signature Warm Honey Drizzle body treatment that utilizes home-grown honey sourced directly from resort beehives.
"We're proud to give the community a new socially-conscious spa experience," said GM Steven Ellingsen. "I'm not sure there's another spa out there that uses honey harvested on-site. Our get-away-from-it-all resort mindset coupled with our low pricing sets Monarch Spa apart from competitors."
About the spa:
Monarch Spa features a variety of flexible location options for servicing, from private spa rooms for single and couples-treatments, to poolside and group options, to even guest bedrooms. The new private spa spaces have been designed to provide the utmost tranquility; everything from the lighting to the fixtures have been carefully-crafted to convey a sense of harmony. For those who prefer a leisurely poolside session, Monarch Spa boasts both indoor and outdoor heated pools set amongst the green backdrop of Willow Crest Golf Club. With Oak Brook Hills Resort being an IACC (International Association of Conference Centers) facility, Monarch Spa offers customized options for small or large groups – from group mani/pedi's to group yoga, that can be set up in one of the resort's multifunctional event rooms. Finally, if a guest is staying at the resort, they may also elect to have a certified massage therapist visit them in the quiet confines of their own guestroom, where they can enjoy Monarch Spa's personalized treatments before, during or after a long day.
About the menu:
Managed by Windy City Massage, Monarch Spa's menu also features a variety of offerings. A number of custom massages range from 60-minutes to 120-minutes, with price points starting at only $99. 50-minute custom facials featuring EmerginC products list for $99, with classic & signature mani/pedi's starting at $50. The showcase body treatments are $155, highlighted by Monarch Spa's signature Warm Honey Drizzle – 90-minutes of blissful skin brushing and massaging using Monarch Spa's organic honey that is harvested fresh outside, just steps away.
All Monarch Spa services must be reserved in advance (no walk-ins) by calling Windy City Massage at 312.946.3000. Spas service hours are from 6 am to 11 pm daily.
About the house-honey emphasis:
Concerned for the declining honeybee populations, which pollinate one-third of the world's food supply, the Executive Chef of B. – the new farm-to-table restaurant at Oak Brook Hills Resort – became a certified beekeeper. He tends to 10 large beehives on-site with up to a half million honeybees that A) pollinate his Chef's Gardens and B) produce honey that is harvested to flavor dishes and enhance Monarch Spa's Warm Honey Drizzle body treatment. For Chef Curry and the staff at Monarch Spa, it's about raising awareness and giving their guests unforgettable experiences.
About the Monarch butterfly emphasis:
The Monarch butterfly population has also been in decline, however the Illinois State insect is getting some unlikely help with its migration south from Oak Brook Hills Resort. Led by the spirited efforts of a full-time horticulturalist, Karen Paquin, the resort features an on-site Monarch habitat anchored by manicured butterfly waystations. Monarch butterflies, which are crucial pollinators, migrate 1,500 miles, from central Mexico to Canada, every year and need stopover sites, with food and shelter, along their way. In order to be designated a certified Monarch waystation, sites along the Monarch's path must meet or exceed certain requirements, including: a minimum number of milkweed and nectar plants, proper drainage and soil type, certain garden size, correct exposure to sun, plant proximity (for shelter), and appropriate management.
About the Oak Brook Hills Resort:
The Midwest's premier lifestyles and conference hotel is nestled away in the upscale suburb of Oak Brook, Illinois – just 30 minutes west of Chicago. The newly renovated Hilton Chicago/Oak Brook Hills Resort & Conference Center (3500 Midwest Road, Oak Brook, IL 60523) has been a preferred luxury destination for weekend getaways, golf trips, family vacations, weddings and business events for close to 30 years. With over 42,500 square feet of meetings and event space, the hotel is an ideal venue for business meetings, conferences, retreats, banquets or social functions. The 386 rooms 39 suites are complemented by extensive and flexible event space including a tented outdoor pavilion, exercise facilities, indoor and outdoor swimming pools, the 18-hole Championship Willow Crest Golf Club, and numerous dining options – including the acclaimed hyperlocal farm-to-table signature restaurant, B. The property has achieved IACC Green Star Gold Tier status, and is managed by Westmont-based Portfolio Hotels & Resorts. Visit http://www.oakbrookhillsresort.com for reservations or more information, or call the hotel direct at 630.850.5555.