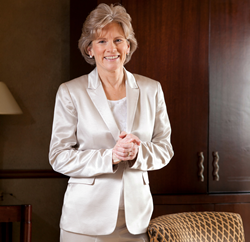 How you spend your time is how you spend your life.
(PRWEB) February 19, 2015
Jackie Woodside works toward expanding the edge of human potential. As a psychotherapist, coach, teacher, speaker, and author, she is particularly qualified to address a wide array of people and subjects. Woodside's weekly "Monday Motivation" emails come at the beginning of the work week, and provide inspiration that encourages readers to ignite the flame of possibility in their lives. Woodside specializes in and speaks to a great deal of topics in the consciousness realm, including the power of managing personal energy rather than one's time or stress level.
With an impressive résumé that demonstrates her wealth of experience, Jackie Woodside is uniquely qualified to live out her mission: to show others the way to freedom, fulfillment, and living their passion. Her weekly messages are brief but substantial, providing a boost on many people's least favorite day of the week. These "Monday Motivation" emails relate closely to Woodside's teachings, as well as the subject matter of her upcoming book.
Calming the Chaos will launch in April 2015 through Next Century Publishing, and addresses many of the concerns of our modern lifestyle. Among these is the feeling that no one has the time to tackle all the tasks that face them. This constant stress breeds a life of disorganization and chaos; Woodside hopes to help others change that. As she says, "How you spend your time is how you spend your life." Her approach, based on her acclaimed "Energy Management" workshops, is part philosophy and part psychology, but with step-by-step, practical processes to incorporate into everyday life.
With over 25 years experience coaching, counseling, and training others, Jackie Woodside helps others find greater peace of mind. Through her weekly "Monday Motivation" emails, and her upcoming book, she gives others the tools to be the least stressed, most productive person they know.
Jackie Woodside
Jackie Woodside is a torchbearer for a transformed world illuminating freedom, fulfillment, and passion. She knows that everyone has their own amazing truth, but a person must have courage and be willing to shirk conventions to discover it; keeping this in mind, she created her revolutionary Life Design program to teach the ongoing experience of a wonder-filled life. An enthusiastic proponent of consciousness, Jackie is the Amazon Best Selling author of, "What If It's Time for a Change…?", as well as a contributing author in the award- winning book "Conscious Entrepreneurs."
Jackie is the embodiment of vibrant talent coupled with extensive experience. She is a licensed psychotherapist, Certified Professional Coach (CPC), and Energy Leadership Master Practitioner (EL-MP) and has spent the last two decades using her deep understanding of human development to aid others through speaking, coaching, and training, as well as using her fluency in American Sign Language to work as a therapist, manager, and consultant for the Deaf Community in Massachusetts. Jackie knows that honoring one's instincts and listening to that inner voice is the best way to live a life full of passion and purpose. She believes spirituality is an art: one must learn to practice practicality while still bringing their spiritual self to all aspects of their life. As the president to the board of trustees at Unity on the River, a spiritual community in Amesbury, MA, Jackie strives to share with others that they are each a unique expression of God. Jackie has trained with and is certified by the Institute for Professional Excellence in Coaching (IPEC), has a Masters in clinical social work.