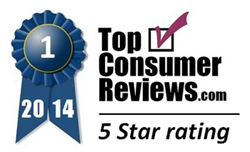 We are thrilled to receive TopConsumerReviews.com's highest rating... This is a terrific honor!
Overland Park, KS (PRWEB) May 16, 2014
TopConsumerReviews.com recently awarded their highest five-star rating to Xoom, an industry leader in online Money Transfer services.
"We are thrilled to receive TopConsumerReviews.com's highest rating," said Robin Carr, Director of Public Relations at Xoom. "Xoom is a pioneer in the digital money transfer market, providing customers with an easy to use, cost-effective and safe way of sending money to loved ones in 31 countries. In addition to fast and simple money transfers on-the-go, Xoom customers can use the Xoom App to track the status of their money transfer as their money moves to their loved ones. Plus, customers can review Xoom's low fees, check exchange rates and contact customer service 24/7. To receive the five-star rating from TopConsumerReviews.com further demonstrates our commitment to our customers - and we thank you for acknowledging Xoom. This is a terrific honor!"
With Xoom, consumers can send money to friends and family to 31 countries in Latin America, the Philippines, Asia, India, Europe, Australia and South Africa from the convenience of their mobile phone, tablet or computer. It's easy to use and customers can pay for their money transfer with a U.S. based bank account, credit card or debit card. The days of searching for a money transfer store that works for both the payer and receiver are a thing of the past.
"Xoom is a leader in global online money transfer providers," explained Brian Dolezal, of TopConsumerReviews.com, LLC. "Xoom has created an affordable, fast, and flexible money transfer service that facilitates the transfer of money to 31 different countries. If you have friends or family overseas, Xoom allows you to transfer money affordably with only a few clicks of the button, using your credit card, debit card or bank account details. Xoom also provides text alert messages to customers to keep them informed throughout the process."
To find out more about Xoom and other online money transfer services, including reviews and comparison rankings, please visit the Money Transfers category of TopConsumerReviews.com at http://www.topconsumerreviews.com/money-transfers/.
About Xoom
Xoom is a leading digital money transfer provider that enables consumers to send money to 31 countries in a secure, fast and cost-effective way, using their mobile phone, tablet or computer. During the 12 months ended March 31, 2014, Xoom's more than 1.1 million active customers sent more than $6.1 billion to family and friends. The company is headquartered in San Francisco and can be found online.
About TopConsumerReviews.com
TopConsumerReviews.com, LLC is a leading provider of independent reviews and rankings of hundreds of consumer products and services. From money transfers to debt consolidation and personal loans, TopConsumerReviews.com delivers in-depth product evaluations in order to make purchasing decisions easier.