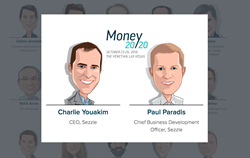 "Sezzle's platform is designed to appeal to both merchants and consumers."
Minneapolis, MN (PRWEB) August 03, 2016
Sezzle, a high growth payment processing platform, has been selected to showcase its innovative payment platform at Money20/20 2016 in Las Vegas.
Sezzle's payment platform competes directly with PayPal and touts itself as the "Paypal 2.0" of merchant processing. Sezzle's platform is designed to appeal to both merchants and consumers. For merchants, Sezzle's benefit is a low-cost payment method at checkout - effectively halving the cost of PayPal and traditional credit card and debit card merchant processing. Once in a merchant checkout, Sezzle allows consumers to link a bank account through a simple one-time, in-checkout signup process. Once the user links their bank account to their Sezzle account, they are set to pay merchants and earn 1% cash back when paying with Sezzle.
"We're already seeing excitement from merchants about adding Sezzle as a payment option," said Sezzle's VP of Marketing, Mia Bernad. "The next phase is going to be really exciting, because we'll be watching the growth of consumer adoption to our platform."
Charlie Youakim, Sezzle's CEO and Paul Paradis, Sezzle's CBDO have both been invited to present at the event to talk about their next generation payment platform.
Money20/20 is widely recognized as the largest conference in payments innovation with over 10,000 attendees making the 2015 show. The conference has grown significantly over the past few years and has showcased the most promising FinTech companies, with recent attendees including PayPal, Affirm, Stripe, Poynt and Kabbage.
To learn more about Sezzle and its new merchant processing technology, visit sezzle.com/money2020/2016.
About Sezzle
Sezzle is reinventing consumer to business payments, one payment at a time. It is leveraging new authentication technology with banks to gather account information and complete bank to bank transactions instantly. Its payment platform allows businesses and e-commerce platforms to simply and securely leverage Sezzle's payment capabilities to accept electronic debit payments, without the transaction fees and pain of accepting of traditional card-based payments. Sezzle's rewards programs incentivizes consumers to adopt it through an enticing cash back offer and a mobile-first payment experience. Learn more at https://sezzle.com.