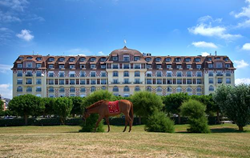 Our focus is building a network of like minded professionals who love what they do . Denis Walsh, President & CEO
(PRWEB) June 27, 2019
Founded in 1979, Money Concepts began with a vision to change the way financial services were delivered to the public. This unique mindset laid the foundation that remains in tack 40 years later.
Independent advisors will celebrate their anniversary with a unique conference that spotlights some of the most historic lessons on leadership during WWII and D-Day. In addition to business sessions to expand their knowledge and skills. attendees will participate in sessions from a WWII expert and afternoon tours.
Money Concepts President & CEO, Denis Walsh described the agenda stating, "the leadership lessons learned from D-Day can be applied to our business and personal life today". "We wanted to commemorate this special occasion with a program that would an experience of a lifetime". "Our success and longevity has been through a focus on building a network of like-minded professionals who love what they do and the same goes for us!"
Money Concepts® was established in 1979, and its parent company, Money Concepts International, Inc., has a network of approximately 700 financial professional's centers nationwide.
In addition to serving independent advisors, Money Concepts® provides turnkey wealth management services for community based financial institutions and tax professionals. Money Concepts® advisors provide holistic planning and offer a full array of non-proprietary products and services including advisory and alternative investment services.
All Securities Offered Through Money Concepts Capital Corp. | Member FINRA/SIPC
Money Concepts Advisory Service is a Registered Investment Advisor with the SEC
All Non-Securities and Non-Advisory Products through Money Concepts International, Inc., 11440 North Jog Road, Palm Beach Gardens, FL 33418. 561-472-2000.
For more information visit http://www.MoneyConcepts.com/Advisor and follow us on Facebook, LinkedIn and Twitter.