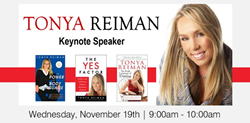 Hollywood Beach, FL (PRWEB) November 07, 2014
Improving communication skills is among the many topics included in Money Concepts upcoming Annual Planning Conference November 17-20. Body Language expert Tonya Reiman will share her insights and experience with independent financial advisors.
For over a decade, Tonya honed her skills in the fields of training, communication and influence working with executives and staff in the financial industry. Her passion for hypnosis also proved useful in this arena and assisted many clients in furthering their goals. She has provided expert body language analysis and knowledge of communication in print, radio and various TV media such as Fox News Channel, The Today Show, Good Morning America, Access Hollywood, EXTRA, and Fast Money. Furthermore, she contributes to articles
About Money Concepts®:
Money Concepts Capital Corp. is a privately owned independent broker-dealer and dually registered as a Registered Investment Advisor based in Palm Beach Gardens, FL. Established in 1979, and its parent company Money Concepts International, Inc. has a network of approximately 700 financial professional's centers nationwide.
In addition to serving independent advisors, Money Concepts® provides turn-key wealth management services for community banks, credit unions and tax professionals. Money Concepts® advisors provide holistic planning and offer a full array of non-proprietary products and services including advisory and alternative investment services.
All Securities Offered Through Money Concepts Capital Corp. | Member FINRA/SIPC
Money Concepts Advisory Service is a Registered Investment Advisor with the SEC
All Non Securities and Non Advisory Products through Money Concepts International, Inc.11440 North Jog Road, Palm Beach Gardens, FL 33418. 561-472-2000.
For more information, visit http://www.moneyconcepts.com/Advisor and follow us on Facebook, LinkedIn and Twitter