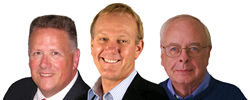 Our agenda reflects the culture of sharing within our network of financial professionals"Denis Walsh, President & CEO
(PRWEB) November 26, 2015
Wealth management and financial planning firm Money Concepts welcomes over 200 of their top advisors to Hollywood, FL for their Annual Planning Conference. The four-day conference objective focuses on the sharing of "Best Practices" among leading industry experts, top producers and product experts.
Money Concepts President and CEO Denis Walsh says, "We believe that quality education is critical to the success of our advisors and to the financial services profession. Our conference agenda reflects our culture of sharing within our network of financial professionals."
Industry Expert Keynote Speakers include:
Nick Murray - One of the industry's premier speakers and the author of eleven books for financial services professionals. His book for clients, "Simple Wealth, Inevitable Wealth", is among the most successful privately published books of the last dozen years. Nick also publishes a monthly newsletter and "spot coaching" service for advisors.
Gary Bailey- Former soccer star for Manchester United, Gary Bailey will share his insights on "Business Success Under Pressure". Inducted into Speakers Hall of Fame (SA) in 2010, Gary has worked around the world to help leaders and their teams perform better and thrive under the pressures of today.
Michael Roby - Author of "The Ultimate Small Cap Business: Building a Financial Advisory Practice". Michael Roby is one of America's leading sales and marketing coaches in financial services. Today Michael shares his expertise with professional service providers, including financial institutions, broker-dealers, insurance companies and financial product distributors.
In addition to a great line-up of speakers, attendees will enjoy technology workshops, panel discussions from product companies and continuing education sessions. This event is one of many programs hosted by Money Concepts throughout the year to benefit their national network of financial professionals.
About Money Concepts
Money Concepts Capital Corp. is a privately owned independent broker-dealer and dually registered as a Registered Investment Advisor based in Palm Beach Gardens, FL. Established in 1979, and its parent company Money Concepts International, Inc. has a network of approximately 700 financial professional's centers nationwide.
In addition to serving independent advisors, Money Concepts provides turn-key wealth management services for community banks, credit unions and tax professionals. Money Concepts advisors provide holistic planning and offer a full array of non-proprietary products and services including advisory and alternative investment services.
For more information visit http://www.MoneyConcepts.com/Advisor and follow us on Facebook, LinkedIn and Twitter.