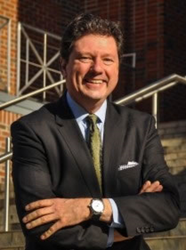 "The Professor delivers a timely, energetic and entertaining message" Allen Porter- VP of Marketing
(PRWEB) June 11, 2015
Independent financial advisors from Money Concepts are looking forward to the economic insights of today delivered in an informative yet entertaining fashion during their Financial Planning Congress June 28 at the Atlantis Resort, Bahamas. Money Concepts VP of Marketing Allen Porter stated "Professor Ricchiuti delivers a timely message in an energetic and entertaining fashion."
Peter Ricchiuti teaches at Tulane University's Freeman School of Business where his insight and humor have twice made him the school's top professor. Peter started his career with the investment firm of Kidder Peabody and later managed over three billion dollars as the assistant treasurer for the state of Louisiana. In 1993 he founded Tulane's highly acclaimed BURKENROAD REPORTS student stock research program.
Peter also hosts a popular weekly business show on National Public Radio in New Orleans called "Out To Lunch" and recently published his first book "STOCKS UNDER ROCKS. "He has been featured on CNN and CNBC as well as in The New York Times, BARRON'S, The Washington Post and The Wall Street Journal.
About Money Concepts®:
Money Concepts Capital Corp. is a privately owned independent broker-dealer and dually registered as a Registered Investment Advisor based in Palm Beach Gardens, FL. Established in 1979, and its parent company Money Concepts International, Inc. has a network of approximately 700 financial professional's centers nationwide.
In addition to serving independent advisors, Money Concepts® provides turn-key wealth management services for community banks, credit unions and tax professionals. Money Concepts® advisors provide holistic planning and offer a full array of non-proprietary products and services including advisory and alternative investment services.
For more information visit http://www.MoneyConcepts.com/Advisor and follow us on Facebook, LinkedIn and Twitter.