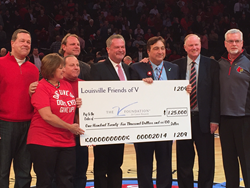 " We are very excited to be a part of this important cause." Russ Lytle, Money Concepts Bluegrass Region President
(PRWEB) December 16, 2014
Money Concepts Bluegrass Region President Russell Lytle was among a group of fellow Louisville business owners and philanthropists that presented a $125,000 check to The V Foundation for Cancer Research at center court of Madison Square Gardens. The group traveled to present the larger-than-life check during halftime of the game between the University of Louisville and Indiana University in the Jimmy V Men's Basketball Classic, an annual college tournament that raises funds for the organization.
Louisville Friends of V, as the group is called, was formed to support the efforts of the V Foundation. Led by Bob Valvano, brother of the late Jim Valvano, the group's year-round fundraising efforts include such events as the annual Cowgill-Valvano Wild Eggs Scramble Fore Cancer, V Bocce Tournament and Kentucky Derby Festival Marathon. Money Concepts has been a regular hole sponsor at the Scramble Fore Cancer for years, and the company participates actively in other local V Foundation events as well. The group is excited that the contributions they have helped to raise will go toward furthering cancer research.
About Money Concepts®:
Money Concepts Capital Corp. is a privately owned independent broker-dealer and dually registered as a Registered Investment Advisor based in Palm Beach Gardens, FL. Established in 1979, and its parent company Money Concepts International, Inc. has a network of approximately 700 financial professional's centers nationwide.
In addition to serving independent advisors, Money Concepts® provides turn-key wealth management services for community banks, credit unions and tax professionals. Money Concepts® advisors provide holistic planning and offer a full array of non-proprietary products and services including advisory and alternative investment services.
All Securities Offered Through Money Concepts Capital Corp. | Member FINRA/SIPC
Money Concepts Advisory Service is a Registered Investment Advisor with the SEC
All Non Securities and Non Advisory Products through Money Concepts International, Inc.11440 North Jog Road, Palm Beach Gardens, FL 33418. 561-472-2000.
For more information, visit http://www.moneyconcepts.com/Advisor and follow us on Facebook, LinkedIn and Twitter