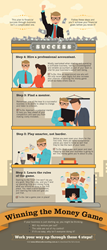 This plan to financial success isn't a complicated one. Follow these steps and you'll achieve your financial goals before you know it!
Liverpool, Australia (PRWEB) July 14, 2014
Reaching financial success through business is not an easy task. The brand new Infographic "Winning the Money Game" by Alliance Accounting presents the key steps to reach success as described in their insightful eBook of the same title.
"Winning the Money Game" was the first book published by George Germanos, the Managing Director at Alliance Accounting. As he explains, "If your business is starting up, you might be thinking: 'will my venture pan out?' or 'The odds are out of my control!' or perhaps 'If it is so easy why isn't everyone doing it?' Well, what we believe is that you can work your way through four fundamental steps to success."
The first step is to learn the rules of the game: build a solid foundation and get a plan in place. The next step instructs: play smarter not harder; business people need to learn certain fundamental pieces like the back of their hand and map out how a business is going to achieve their goals. One of the keys to a successful business is its ability to adopt to change and listen to criticism; in this case a successful mentor will help the business leap ahead of their competition and refrain from making costly mistakes.
The fourth step is to hire a knowledgeable and reliable accountant to ensure the business' overall well-being. A professional accountant should not only be able to record the digits but also enhance the business' potential of winning the money game. Mr. Germanos adds, "This plan to financial success isn't a complicated one. Follow these steps and you'll achieve your financial goals before you know it!" The newly released infographic is actually a teaser to the real gems and powerful insights that can be found in the eBook.
Business owners can download this powerful eBook for free when they visit the infographic page: http://www.allianceaccounting.com.au/winning-money-game-book/
About
Established in 2010, Alliance Accounting is proud to be a key business 'partner' for many of their clients. Specialising in matters of Business and Investing, the forward-thinking company not only assists clients in maintaining their business, but growing it to achieve their goals.
What's more, they're a Chartered Accounting firm backed by an industry leading membership body. Their office is further complimented by having a Director of Business who's a Chartered Tax Adviser, Fellow of the Taxation Institute of Australia and a Justice of the Peace.
Alliance Accounting's key strength is their ability to work as if they were in your position. They are business advisers from Sydney who go to great lengths to understand your business fully, in order to always offer the best possible advice.