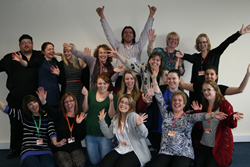 (PRWEB UK) 11 April 2014
Staff at the company's offices in Wrexham have been enjoying Monday lunchtimes with a difference thanks to laughter yoga sessions, which are being offered free of charge to staff as part of Moneypenny's plan to help keep staff happy and well.
Laughter yoga combines laughter exercises and deep breathing and aims to boost energy levels while helping people to feel happy and more relaxed.
Laughter yoga teacher Wes Floyd who is conducting the sessions at Moneypenny explains how it works: "Laughter yoga is about unconditional belly laughter and meditation, basically laughing for absolutely no reason! There are no jokes, no comedy and no humour. Laughter is initiated through a combination of exercises, deep breathing, eye contact and playfulness. It's about letting go. Inhibitions are quickly dropped and real and contagious laughter is remarkably easily achieved."
Moneypenny Marketing Assistant Carly Allen was a little sceptical before the first session: "It did sound like a strange thing to be doing during lunchtime but it was great fun. It's amazing how a few simple techniques can really help you unwind. We ended up literally giggling and in a great mood all afternoon!"
Moneypenny's Managing Director Glenn Jackson is pleased that the sessions have been so well received: "We all know the value of a really good laugh. It does us all a power of good and while we normally see happy smiley faces all around Moneypenny, things have definitely taken a new turn with spontaneous laughter bursting out all over the place! We firmly believe that happy staff makes for a great place to work and with so many people these days spending hours sitting at workstations, it is important to find new ways to stay fit, healthy and active."
Wes concludes: "Science increasingly demonstrates that laughter is surprisingly good for us by helping to reduce stress, while boosting endorphins and immune systems. Laughter brings confidence and can help us improve our relationships and feel more alive. Laughter yoga is a simple, gentle and effective technique and importantly it is a fun activity that can be shared with friends, colleagues and family."
ENDS
For further information on laughter yoga visit http://www.laughtertime.co.uk.
For more on Moneypenny visit http://www.moneypenny.co.uk.
About Moneypenny
Moneypenny looks after telephone calls for businesses of all shapes and sizes - from sole traders right up to multinational corporations. For larger companies, Moneypenny can either support an existing reception team or provide a fully outsourced switchboard function. Based in Wrexham, and Auckland, New Zealand, Moneypenny has over 350 staff, a figure that is growing at a rapid rate. The company was founded by a brother and sister team in 2000 and the company now handles in excess of 8.2 million calls a year for more than 6,500 UK businesses. Its sister product Penelope was launched in 2013. Moneypenny is proud to have won the Queen's Award for Enterprise and was in The Sunday Times 100 Best Companies to Work for 2009/11/13.