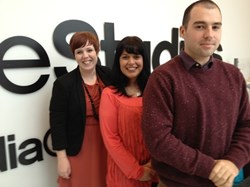 (PRWEB UK) 3 December 2013
Three hopefuls from telephone answering service Moneypenny, based on Wrexham Technology Park, have been pitting their wits against a team of TV's most well-known personalities for a brand new quiz show in a bid to scoop a £3,000 prize.
'Show Me The Telly' which aired for the first time on ITV daytime last week is a television archive-fuelled quiz that sets a team of TV lovers against a trio of TV legends.
Each day, host Richard Bacon presides over three time-served TV 'know-it-alls' captained by Chris Tarrant who are all looking to display their prowess as they play against a team of friends, family or colleagues all trying to outdo them with their impressive knowledge of TV trivia and hopefully walk away with the cash prize at the end of the show.
Moneypenny colleagues John Passey, Leonie Matthews and Kate Perrin spent the afternoon filming in Manchester trying their best to beat the 'Who Wants to Be a Millionaire' host along with Corrie favourite Michelle Collins and Strictly's Arlene Phillips. Viewers will see whether they triumphed in their episode which will be aired this Thursday, December 5th, 4pm to 5pm.
For more information see http://www.itv.com/presscentre/ep1week48/show-me-telly#.UpxhH9JdUud
For more on Moneypenny see http://www.moneypenny.co.uk.
For further information on this press release, contact:
Debbie Barton, Moneypenny Communications: debbie.barton(at)moneypenny(dot)co(dot)uk
Tel: 0345 123 3700