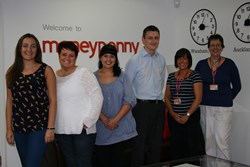 (PRWEB UK) 15 August 2013
As part of a brand new ITV series 'Star Treatment', which airs for the first time on Monday August 19th at 12.30pm, Moneypenny is all set to feature on Wednesday 21st as the third company to receive the exciting surprise.
Jane McDonald has been busy over the summer months tracking down unsung heroes of the workplace to give them the Star Treatment they deserve.
Star Treatment, which comprises 15 one hour programmes in total, sees Jane and her style team visiting workplaces around the UK, from offices and factories to clubs and institutions. They have been giving the 'star treatment' to teams that have been nominated by their bosses to thank them for their hard work and positive attitude.
Six staff at Moneypenny were nominated by Managing Director Glenn Jackson – PAs Leonie Matthews, Rachel Pierce, Cathy Boardman and Sharon Boyle who answer the telephone for a range of different clients, along with New Business Manager Ben Stevens and Jess Edwards, Marketing Assistant for Penelope, Moneypenny's new digital receptionist product for small businesses. Jess was filmed within days of returning from New Zealand where she had helped to set up Moneypenny's new office in Auckland; whereby calls are answered in their daytime for UK businesses over night.
The lucky workers were treated to a full makeover from Star Treatment's style team in the 'Glam Van' which made quite an impression parked in the company car park. The team of Andrew Trott-Barn on hair, Cassie Lomas on makeup and celebrity stylist Lorraine McCulloch got to work on the six, and while they were getting their makeover, Glenn was busy behind the scenes cooking up a surprise gourmet treat for them with top chef Ricky Andalacio.
Viewers will see the transformation from work star to superstar as the team are revealed to colleagues, family and friends on the Moneypenny 'catwalk' at the end of the day.
Jane McDonald said: "Glitz, glamour and real life stories. Star Treatment has my name written all over it! Each week I meet the unsung heroes of the workforce and treat them to a special makeover to show them how appreciated they are. There are a lot of tears and emotion but the ending is always really positive."
Glenn Jackson adds: "It was wonderful to welcome Jane and her team to Moneypenny. It was an incredible surprise for everyone and the six chosen were just overwhelmed. It had been so difficult to decide who to nominate as Moneypenny is full of dedicated people but I chose the six based on their own individual stories. We all had an amazing day and one we will never forget. Jane and the whole team were absolutely fantastic, so friendly and fun and we can't wait to see it on TV now!"
Star Treatment runs for three weeks on ITV at 12.30pm from August 19th to September 6th.
For more information see http://www.itv.com/presscentre/ep1week34/star-treatment
For more on Moneypenny see http://www.moneypenny.co.uk
For further information on this press release, contact:
Debbie Barton, Moneypenny Communications: debbie.barton(at)moneypenny(dot)co.uk