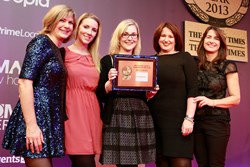 (PRWEB UK) 3 January 2014
In December, over 600 leading estate agents from throughout the UK attended a glittering ceremony at The Lancaster London Hotel opposite Hyde Park where the winners of the most highly regarded awards in the estate agency industry were revealed. The prestigious awards were presented by TV newsreader and presenter Penny Smith.
The awards ceremony was the culminating event of a rigorous and thorough judging process by a panel of 20 industry experts who assessed initial entry submissions before conducting an extensive review of the entrants, which included over 150 hours of telephone interviews and mystery shopping exercises. The whole of the judging process was overseen by The Property Ombudsman; Christopher Hamer and Martyn Baum Vice President of the NAEA as Arbiter
Now in its eleventh year as a dedicated competition, these awards have become widely recognised as the most prestigious and difficult to win. With more entrants than ever before, over 5,000 offices were represented this year, but only the very best of the best were crowned as winners.
This year for the first time individuals were also recognised for their hard work and commitment to customer service in 3 different categories.
Moneypenny, bronze winners in the Supplier of the Year category was delighted to receive the award. Samantha Jones, Moneypenny's Head of Property commented: "We were absolutely thrilled to win this award and really pleased with the judges' report which outlined how our Moneypenny Receptionists provide a seamless service as an intrinsic part of the estate agent teams we work with. To be recognised within the industry in such a hotly contested award category, covering suppliers of every description; is the icing on the cake for the hard work our dedicated team has put in."
A website listing all the winning companies with comments from the judges as to why they won can be found at http://www.estateagencyoftheyear.com.
For further information, please contact Debbie Barton, Moneypenny Communications on 0345 123 3700.