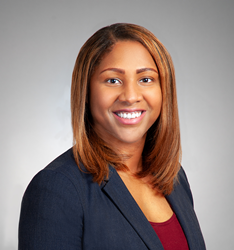 "We're eager to continue moving forward and get justice for the injuries"
ATLANTA (PRWEB) February 16, 2023
The Court of Appeals of Georgia declared on Feb. 1 that a Georgia state trial court errored in allowing direct liability claims to proceed against ABM Aviation Inc., the driver's employer. However, it upheld the trial court's decision to move forward with a "respondeat superior" liability claim against the company.
Monge & Associates attorney Rachel Bukle argued on behalf of the injured victim, Loree Prince.
On Nov. 17, 2016, Prince, an airline employee at the Atlanta airport, parked in an off-site employee parking lot and rode a shuttle bus that was operated by an ABM employee. She suffered a head and back injury when the shuttle's driver lost control of the bus, rolled over a curb, and struck a street sign as filed in state court of Clayton County State of Georgia file no. 2020CV02460.
Accident records show the driver suffering a massive gastrointestinal hemorrhage that caused to become confused and lose consciousness.
At issue was whether ABM — or its employee — knew about the risk of a medical emergency, due to the driver's past medical history, which included several hospitalizations for esophageal varices and three weeks away from work four months prior to the incident. ABM had the burden of showing that the medical emergency was unforeseeable. Under applicable law, employers can be held responsible for the negligent or intentional torts of their employees.
"This is an instance where we firmly believe the shuttle company should take responsibility for the accident," Bukle added. "We're eager to continue moving forward and get justice for the injuries sustained by Loree Prince."
About Monge & Associates
Monge & Associates, is a nationally recognized personal injury law firm that serves innocent injury victims nationwide. Practice areas include catastrophic injuries, wrongful death cases, big truck collisions, motor vehicle crashes, negligent security, dangerous products, surgery cases and worker's compensation. The firm helps victims who have had their life turned upside down by the misconduct of others. Learn more at http://www.BecauseYouWanToWin.com.