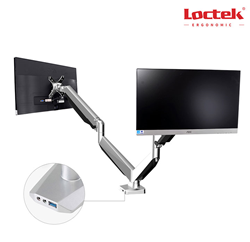 "Our D7 mounts are among the best computer monitor mounts in the industry," said Xiang. "We are especially proud of the fact that they support a healthier way of working at your computer."
Chicago, Il (PRWEB) June 11, 2015
NeoCon Booth #8-1082
Zoxou Inc., the largest authorized distributor of Loctek products in North America, announces the expansion of its D7 Premier Series of monitor mounts to include triple and quad arm mounts. The new products will be exhibited at this year's NeoCon in downtown Chicago. Attendees of the popular commercial interiors convention will find a wide variety of Loctek's high quality monitor mounts, TV mounts, TV carts and tablet stands at booth #8-1082. The event runs from June 15th at 9AM through June 17th at 3PM.
Loctek is a worldwide leading manufacturer of AV peripherals. The company's products feature attractive designs, impressive functionality and quality craftsmanship – all offered at reasonable prices. "The response from attendees at last year's NeoCon was so positive that we are expanding our presence to 890 square feet of exhibition space in 2015," said Lehong Xiang, CEO of Loctek Visual Technology Corp.
"We look forward to showcasing a number of innovative new products that will be very appealing to people working in the commercial interiors industry," Xiang said.
The spotlight will definitely be on Loctek's newly expanded line of D7 Premier Series computer monitor mounts. These elegant full motion mounts offer a wide range of functionality while also supporting a more comfortable, ergonomically correct workstation. Blending high performance with exceptional design, mounts in the D7 Premier Series feature a gas spring hovering system, aircraft-grade aluminum arms and front-loading ports for audio, microphone and USB devices. All mounts in this series have an attractive, anti-scratch finish. Loctek's D7 Premier Series raises the bar for monitor mounts to the highest level.
"Our D7 mounts are among the best computer monitor mounts in the industry," said Xiang. "We are especially proud of the fact that they support a healthier way of working at your computer."
One of Loctek's core goals is to help educate the public about the importance of using ergonomic monitor mounts. Loctek representatives will be happy to chat with anyone who drops by its NeoCon booth about the benefits of adopting an ergonomically correct computer setup. Valuable ergonomic tips are also available at Loctek's blog: http://loctek.us/blog
Whether you need a single mount for your home office, want to put a TV cart in your lobby or need to set up a hundred ergonomic workstations, Zoxou Inc. is equipped to bring you a convenient Loctek solution. Zoxou can supply you with excellent products, reasonable pricing, quality support and a solid distribution infrastructure. Interior designers, office managers, facility directors, business executives, purchasing managers and dealers are all encouraged to drop by to experience Loctek's quality AV peripherals for themselves.
Loctek designs and manufactures monitor mounts, TV mounts, TV carts and tablet stands. Since 1999, Loctek has been producing innovative solutions to improve the safety and convenience of AV peripherals for office and home. Zoxou Inc. will be exhibiting Loctek products throughout NeoCon 2015, which is located at The Merchandise Mart in downtown Chicago. Visit Zoxou at booth #8-1082 in the technology section (A4) of the show.
Facebook: http://www.facebook.com/Loctek1
Twitter: @LoctekOfficial
Contact info:
Name: Marc Rokoff
Phone: 510-925-9570
Email: marketing(at)loctek(dot)us