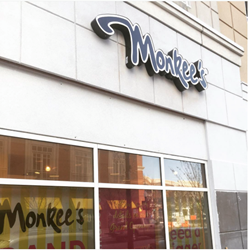 We value each customer and consider it a privilege to have you walk through our door.
Virginia Beach, Va (PRWEB) January 22, 2016
Monkee's of Virginia Beach, an upscale ladies boutique that features designer shoes, clothing and accessories, will host a Sneak Peek event Thursday, Feb. 4, from 5 to 8 p.m. at 4549 N. Main Street. The event is open to the public and guests are invited to stop by for an exclusive look before the official Grand Opening. The store is located in The Town Center, a mixed-use development centrally located between the Virginia Beach oceanfront and downtown Norfolk.
After months of anticipation and planning, Monkee's of Virginia Beach will officially open the doors on Friday, Feb. 5, followed by a Grand Opening Celebration on Saturday, Feb. 6. Festivities will include trunk shows by Trina Turk, Jack Rogers and Laura Grove Designs. Customers will also enjoy a gift with purchase on Saturday while supplies last and a chance to enter to win special giveaways. The trunk shows will continue on Sunday, Feb. 7. The store will be open for business Monday -Saturday, 11 a.m. - 8 p.m., and Sunday, 12 - 6 p.m.
Store Owner Charles Brandon Boyd is a franchisee of North Carolina-based Monkee's, an organization that currently has 26 independently owned and operated locations across nine states. The boutiques have a loyal following throughout the southeast and beyond. Established in 1995, Monkee's was built on a love of fashion, and grown through a focus on personal customer relationships.
"When a customer walks through the front door of Monkee's of Virginia Beach, we have a responsibility to make them feel welcomed and to make their day extra special by the way we treat them and the service we provide them," said Boyd. "Monkee's is not just a store, it's an experience and it's an experience that deserves to be talked about and shared."
Gleaming white cabinetry, signature chandeliers and the lounge-friendly shoe galleries are all staples in a Monkee's store. However, each location has a personality of its own. In Monkee's of Virginia Beach, the store combines southern hospitality with a commitment to making shopping fun.
"It's the little things," said Store Manager Abby Wilkerson. "Our colorful décor, coffee bar and photo booth wall all add to our overall experience that people will never forget. We value each customer and consider it a privilege to have you walk through our door."
Monkee's of Virginia Beach will carry shoes, clothing and accessories with a wide variety of styles and price ranges. The store will open with designers such as Joie, Amanda Uprichard, Alice & Trixie, Hunter boots, GiGi New York, Frye, DL1961, Mara Hoffman and Yeti – just to name a few.
For a behind the scenes look of the new store and a chance to win giveaways before opening, please follow @monkeesofvirginiabeach on Facebook and Instagram.