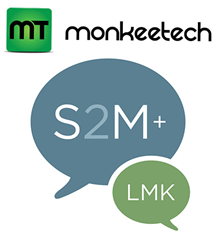 We are expecting the issuance of a patent for Send2Mobile+© in the near future and are looking forward to an aggressive roll out of this multi-layered, game changing system immediately thereafter. - Jeffrey N. Dinardo, Jr
West Babylon, New York (PRWEB) August 18, 2014
Jeffrey N. Dinardo, Jr. CEO of Monkeetech LLC, a program developer located in West Babylon, New York, announced today that Monkeetech was nomination for a 2014 MMA Global Smarties Award for its patent pending SMS marketing and payment system titled "Send2Mobile+"©.
Mr. Dinardo stated that "it is indeed an honor to be counted among so many prestigious companies and their respective entries in the category of global, mobile 'Innovation' and while Monkeetech was not listed on this year's short-list of award winners, we want to congratulate all of our fellow nominees on their contributions to this year's competition." "This year's list of nominees for all categories of the MMA Smarties Awards evidences the importance that mobile marketing and mobile payments currently play in the e-commerce industry and the sustained growth of the mobile channel that, we can look forward to in the immediate future"
Mr. Dinardo then went on to explain what Monkeetech sees as the future of its innovative Send2Mobile+ system. "We are expecting the issuance of a patent for Send2Mobile+© in the near future and are looking forward to an aggressive roll out of this multi-layered, game changing system immediately thereafter" states Mr. Dinardo. "Send2Mobile+© incorporates the ability for merchant and consumer to communicate via SMS/MMS platform in nearly real time. The reverse marketing attributes of the 'Let Me Know'™ portion of Send2Mobile+© allows consumers to inform the merchant, via SMS, of what products the consumers are interested to buy and at what prices they will buy them. The 'Buy Now' feature of Send2Mobile+© permits the consumer to immediately purchase the product via embedded link within the SMS message received from the merchant. Even 'live auctions' are now possible between Buyers and Sellers, utilizing the easy and secure, patent pending Send2Mobile+© system" comments Mr. Dinardo. "It is this kind of innovation that has earned us a 2014 Global MMA Smarties Award nomination and widely published recognition.
Monkeetech LLC manages a host of patent pending mobile marketing, mobile payments, credit card and banking fraud prevention systems and biometric identification and authentication systems. We invite you to visit the Monkeetech site at: http://www.MonkeeTech.com and we thank the MMA for its consideration and recognition of the Send2Mobile+© system.