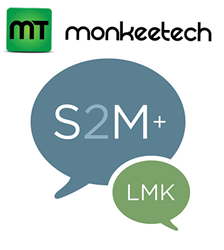 This Registered Copyright now fully protects the company's ownership interest in the background technology of the Send2Mobile© System, as we move forward with the Patent examination process. - Kenneth Carnesi
West Babylon, New York (PRWEB) April 10, 2014
Monkeetech LLC, a program developer in West Babylon, New York, today announced that it has received a Registered Copyright for its patent pending program, Send2Mobile©. "This is an important step for Send2Mobile©," commented Kenneth Carnesi, a Director and Sr. Compliance Officer for Monkeetech. "This Registered Copyright now fully protects the company's ownership interest in the background technology of the Send2Mobile© System, as we move forward with the Patent examination process," states Carnesi.
The Send2Mobile© System defies easy description, as it is a truly unique and innovative, multi-level, SMS/MMS interactive marketing system. For example, contained within the patent pending Send2Mobile© System is a function titled "Let Me Know™". "Let Me Know™" permits the consumer and the merchant to interact in a manner and at a level heretofore not possible. Let Me Know™ connects directly to the merchant's check-out page or integrated mobile wallet, to permit immediate purchases through its "Buy Now" option. This truly unique interactive function is only one example of the System's many innovative functions. From all early reviews, it appears that Send2Mobile© is truly a game changer in the marketing industry.
Monkeetech LLC also owns IPR's in a number of other innovative programs such as a credit card fraud prevention system for swipe terminals, a biometric fraud prevention system for ATM's and mobile wallets and many others. For more information on the Send2Mobile© System and the other patent pending programs created and managed by Monkeetech LLC, please visit our website at: http://www.MonkeeTech.com.