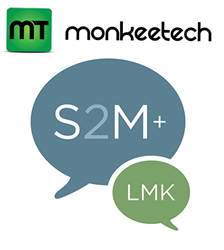 The timing for the industry wide release of our Send2Mobile+™ System is now perfect. - Jeffrey Dinardo, Jr.
West Babylon, NY (PRWEB) September 30, 2014
Monkeetech, LLC, a program development corporation located in West Babylon, New York, announced today that it is witnessing industry wide adaptations of its innovative, patent pending Send2Mobile+™ System.
Send2Mobile+™ is a unique, patent pending SMS/MMS based intuitive marketing and mobile payment system, which was recently nominated for a 2014 MMS Smarty Award in Global Marketing Innovation. Lodged within the S2M+™ system is an innovative core function titled "Let Me Know"©. "Let Me Know"© enables the retailer and the customer to communicate directly, via SMS/MMS messaging, in a manner heretofore unseen in the marketing industry. By using "Let Me Know"©, customers are now able to directly and personally inform retailers of what products or services they are most interested in and upon what terms they are ready to purchase.
Also included within the "Let Me Know"© function is a "Buy Now" option, which allows customers to purchase products with just one-click on an embedded link within the retailer's SMS/MMS message. The "Buy Now" option of the Send2Mobile+™ System connects seamlessly with any mobile wallet or mobile payment system residing on the customer's mobile device and so provides the customer with ease of payment and a method of secure authentication and identification within S2M+™ designed in accordance with the principles of the FIDO Alliance. Monkeetech, LLC has been a member of the FIDO Alliance since 2013.
A natural extension of the "Let Me Know"© will permit any auction site to carry on a real-time live auction, where the bidders are constantly updated on competing bids via SMS alerts and can easily re-bid by the same SMS system. Monkeetech is confident that the unique live auction capabilities of Send2Mobile+™ will provide an exceptional value add to auction site leaders like e-Bay, StubHub, and Sotheby's.
Jeffrey Dinardo, Jr., CEO of Monkeetech states that "the timing for the industry wide release of our Send2Mobile+™ System is now perfect. Our patent pending S2M+™ system is expected to qualify for a full Utility Patent very soon. Also, the industry news is now full of examples of how leading companies are reaching out to adapt the functionality of S2M+ in their respective businesses. Recently, I read that Twilio announced the testing of what amounts to a form of "Let Me Know"© with the upscale retailer Nordstrom, utilizing SMS/MMS technology and APIs. Google also just recently announced testing of a search system to allow customers to identify flights and destinations and be notified, via SMS of the cheapest tickets available, another example of adaptation of a core function of S2M+."
Mr. Dinardo was clear to point out that "Monkeetech is not viewing these recent developments as attempts to infringe upon our patent pending S2M+™ system; but rather as validation that the time for industry wide release of S2M+™ has now in fact arrived."
"As we have always maintained," comments Mr. Dinardo, "there is little doubt that Send2Mobile+™ will be a game changer."