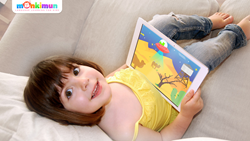 When Google chose us as the Best Android App of 2014, we were proud, but this opportunity gives language learning more reach
San Francisco, CA (PRWEB) May 28, 2015
Monkimun, an award-winning educational technology company that makes language learning for children ages two-to-six fun, today announced they're bringing language learning content exclusively to Google Play customers around the world. Monkimun is a top language learning content developer among a small handful of partners for the new family-focused experience on Google Play, where parents can more easily discover age-appropriate, high-quality content and make more informed choices for their families. Through Google Play, Monkimun will make language learning more accessible for kids ages two-to-six throughout the world.
"Because Google's Android operating system represents more than 75 percent of mobile devices worldwide, we believe this will give even more children around the world the opportunity to become multilingual at an age when their brains are hard-wired to learn language and reap the incredible benefits multilingualism offers throughout the rest of their lives," said Cristobal Viedma, CEO and co-founder of Monkimun. "When Google chose us as the Best Android App of 2014, we were proud, but this opportunity gives language learning more reach, more Google brand association, and with the exclusive content we will develop for Google Play in English, Spanish and Mandarin Chinese, it will directly benefit many populations of the world."
This summer, Monkimun will also release a subscription-based adaptive language learning platform that integrates lessons and content into a one-stop-shop for parents looking to raise multilingual kids. Unlike other language learning programs for young children on the market, the Monkimun platform will allow communities of teachers and parents to monitor children's learning progress and contribute new lessons. Post platform launch, Monkimun will accelerate its new stand-alone app releases to once a month.
About Monkimun
Monkimun is a San Francisco/Madrid based startup founded in 2014. Monkimun technology makes language learning for toddlers and kids fun. It enables parents to raise multilingual children and give them a greater chance for success the rest of their lives. Monkimun currently offers six award winning children's language learning apps in English, Spanish and Chinese, including Monki Home, Monki Hide and Seek, Monki Shake It, Monki Animal Builder, Monki Birthday Party and the Google's 2014 best app award winning Monki Chinese Class. All of them can be downloaded from Google Play, the Apple Store and the Amazon Store. The company will soon release a subscription platform that integrates all lessons and content to offer a one stop shop for parents looking to raise multilingual kids.