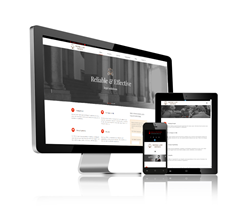 "I was totally pleased with Chip and his staff. They were very kind and helpful in making me realize that there is life after bankruptcy… I would give them a "10″ rating and recommend them to anyone I know. -Shari
Greeley, Colorado (PRWEB) August 17, 2016
Technology is an ever changing landscape and websites are no different. Monk Law Office's new website has an updated look and feel and the technology behind the website ushers it into the new age of computing, mobile computing that is. The site is now responsive and mobile friendly to help customers experience the site on their phones or tablets and find the info they need, when they need it.
They have integrated many new features including social media plugins as well as adding a WordPress blog. It is now easier than ever to stay connected with Monk Law Office and just as easy to keep the site up to date with valuable information. You can now reach them through some of the biggest social media channels like Facebook, Twitter, LinkedIn, and Google+ and share any of that valuable information through those channels with your friends and family with ease.
The new version of the website showcases the Monk Law Office team. It lets you see the faces of the people you are calling to get some real life help from. They want you to know who they are and how they can help you during your time of need.
Visit our new site at http://www.monklaw.org
About Monk Law Office
They are located in Greeley, CO and have been serving Northern Colorado since 1983. Their practice is limited to just two types of cases: Personal Injury and Bankruptcy. They represent people who have been injured through the negligence of others and those seeking relief from overwhelming debt.
Monk Law Office
6500 W 29th St #220
Greeley, CO 80634
970-378-6659