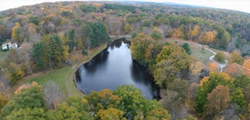 Monroe, CT (PRWEB) October 13, 2016
Online auctioneer Micoley.com Powered by RealtyHive has announced the upcoming auction of an expensive section of vacant land in the Monroe area of Connecticut. The land is part of a larger auction happening in late October.
Lot 957, AKA 141 & 201 Turkey Roost Rd Monroe, CT (zip: 06468) is a 106 +/- acre property in Fairfield County. It is billed as a builder/investor opportunity, as it is located in the second-wealthiest county in the Constitution State. The property is currently approved for 90 residential units, as well as a 250 bed-assisted living facility. This land is ideal for outdoor activity, including fishing, hiking, and more. Additionally, the lot is only 4.9 miles from the Route 25 Expressway, 15 minutes from the train station, and nearby many restaurants, shopping districts, and cultural areas. It is also close to area hospitals.
"This is a tremendously exciting property. There's so much that can be done with this prime piece of land and we look forward to being able to find the perfect fit for this great opportunity," says Wade T. Micoley, President and CEO of Micoley.com Powered by RealtyHive.
The City of Monroe is known as a family-oriented community with plenty of charm. It features an excellent school system, several houses of worship, and quality recreational facilities. It is situated in eastern Fairfield County, an area of western Connecticut laden with art galleries and other cultural attractions, as well as numerous beaches, canoeing and kayaking opportunities, parks and forests, and so much more. Fairfield County truly offers something for every taste and budget.
Lot 957 goes up for auction on October 26, 2016 at 10:00 a.m. Interested parties are encouraged to make bids prior to the auction date, as sellers will review early offers. List price is $6,500,000 with a suggested opening bid of $3,500,000.
For more information please visit http://www.micoley.com or call (866) 371-3619. Additionally, Micoley.com Powered by RealtyHive features a live chat service through which questions can be answered.
About Micoley.com Powered by RealtyHive:
Micoley.com Powered by RealtyHive was created to "transform the real estate industry." President and CEO, Wade T. Micoley has served as a real estate industry leader for more than 30 years, and continues to provide marketing solutions to his wide range of clients.
"Today we serve the real estate community in both the banking and private sectors with customized, accelerated marketing programs," says W. Micoley. "Programs can be tailored for financial institutions, commercial and corporate clients as well as the individual property owner to help face our current and unpredictable economic environment. As a result of our aggressive marketing plan, Micoley.com Powered by RealtyHive has successfully assisted many clients across the United States."