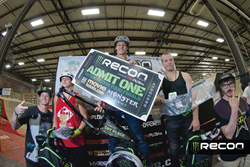 Solana Beach, California (PRWEB) August 13, 2014
Brad Thomas gets gold in the open division at the Monster Army Recon Tour Round 4 in South Bend, Indiana at the iconic Kitchen BMX Park. Isaiah Potter took home first place in the 16 + division as well as Eddie Rovi taking another gold medal in the 13-15 division.
This is the second year that Brett Banasiewicz and his family have opened their doors to their world-class facility. Much like last year the competition was intense and the tricks even bigger. Banasiewicz built this facility just over three years ago when he was considered one of the best BMX athletes in the world. Unfortunately, he had a life-changing injury, but remains passionate about growing and evolving the sport of BMX.
The open division was full of excitement with all the competitors going for broke. Front flips, flip whips, and big transfers were a common theme in this division. Thomas walked away with the golden ticket and advanced to the Recon Tour finals. Coming from California he impressed the judges with his overall use of the course, 360 combinations, transfer lines, and massive superman seat grabs. Zach Shoemaker was also consistent and had a big bag of tricks including 360 double tail whips, flair variations, and multiple 360 combinations that landed him the 2nd place finish. Gage Leiter took third place and impressed with tricks like 360 double tail whips, and 360 double bar spins.
In the 16 + division Potter once again took home first place for the second consecutive event. He was unstoppable with his flairs, 360's, and linking his tricks on the step-down section. The second place spot was earned by Jonathan King who was by far the fastest competitor the judges saw all day. He flew through the course with lightning speed doing multiple bar spin variations and trying massive transfer lines. Dalton Edwards impressed the judges with his street-style tricks like double peg to bar and 360 off the step down to flat, which secured his third place position.
In the 13-15 division Rovi dominated for the second contest in a row and took home first place throwing down huge tricks like superman seat grabs and double whips. Nico Vanderheyden took home second place by using the entire course and his technical consistency. Alex Duleba finished in 3rd place with big box tricks and his fluid, smooth style. Local shredder Hannah Roberts just missed out on the podium, but threw big tricks like x-up transfers and 360 bar spins.
Thanks to the Hookit brand partners: Monster Army, Replay XD, Hyper Bike co., Movietickets.com, Pro-Tec, Sunringle, Deft Family, ODI, Snafu, Fugoo, Vans, and Vital BMX. Big thanks to Brett, Bill, and Lisa Banasiewicz as well as the entire Kitchen Staff. Also thanks to Ryan Guettler, Kris Fox, Joey Marks, and Rich Hoppie.
Final Results
Open Final Results:
1st- Brad Thomas
2nd- Zach Shoemaker
3rd- Gage Leiter
16 + Final Results:
1st- Isaiah Potter
2nd- Jonathan King
3rd- Dalton Edwards
13 - 15 Final Results:
1st- Eddie Rovi
2nd- Nico Vanderheyden
3rd- Alex Duleba
Up Next: Round 5 on September 27 & 28 at The Incline Club in Lakewood, NJ. Register now at http://www.therecontour.com.
###
About the Recon Tour
The Recon Tour, created by Hookit and Monster Energy, is an intelligence-gathering mission to find the best up- and-coming athletes in the nation through contests for BMX, Snowboard and Ski. We work closely with key partners to support the future of action sports and provide a better platform for the athletes to advance in their sports. For more information on the Recon Tour, visit http://www.theReconTour.com. Follow on Facebook at http://www.facebook.com/recontour on Twitter @recontour, and on instagram @recontour. To get involved as a sponsor or partner, please contact Robby Burleson at 888-874-3374 ext. 103 or recontour(at)hookit(dot)com.
About Hookit
Hookit is a digitally connected platform of tools and services created to support and connect athletes, brands and sports. Nearly 1M athlete's worldwide use Hookit to track their progression, promote themselves, build their personal brand, and earn deals from their favorite brands. The newly launched Hookit Score essentially measures the value of any athlete at any level. Updated daily scores range from 1-10,000, and are based on athletes' commitment, performance and reach in their sport. Brand partners are provided with powerful tools to discover, manage and reward amateur and professional athletes who actively support their brand. For more information visit http://www.hookit.com.
About Monster Army
Monster Army is a legion of athletes and fans that represent the Monster Energy brand all over the world. Join pros like Scotty Cranmer, Jamie Bestwick, Ryan Villopoto, Danny Kass and Rob Dyrdek, and get insider access to the Monster Energy lifestyle - Athletes, Support, News, Music, Contests and Events. For more info, visit http://www.monsterarmy.com.