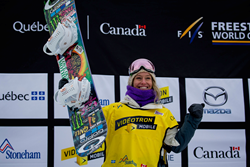 Quebec City, Quebec (PRWEB) February 13, 2017
Monster Energy wishes to congratulate athletes Jamie Anderson and Max Parrot for their second place finishes at the Jamboree in Quebec this weekend. Parrot, whose big air winning streak came to an end, narrowly missed the top spot in the Big Air event and Anderson, added another trophy to her record breaking collection. The competition, a FIS sanctioned event, is an important stop on the road to next year's Olympics in South Korea.
Since 2005 Quebec has been hosting the Jamboree, a snowboard and ski festival that sets the frigid city ablaze each winter. This year however, organizers presented a first, an urban Big Air kicker literally built into existing infrastructure of downtown Quebec City. Located adjacent to a freeway overpass in the historic Parc de Ilot-Fleurie, live music and an electric atmosphere fueled the action as riders dissected the immaculate man-made jump set against a backdrop of the graffiti concrete and wintery cityscape.
Once again Quebec's own Parrot put on a show for his fellow countrymen and women with his next level shredding. With a bag of tricks larger than any rider in the field including the first ever cab quadruple cork underflip, which won him an X Games Gold in Big Air just a coupe weeks ago, Parrot no doubt took into consideration the jump size, competitor's scores, wind speed, barometric pressure, and who knows what else as he took to the air. It cannot be stated any more clearly that what Parrot does on his snowboard is on the level of genius. Opting for a cab triple cork 1440 with a mute grab, he proved that switch or regular, frontside or back, he has Big Air locked down and for all intents and purposes, can podium at will.
Just missing the top spot, the 22-year-old who started snowboarding at the age of nine at Bromont Ski Resort attributes his success to his unflinching will and determination stating, "For me it was never, 'I'm going to try and be a pro snowboarder', it was always 'I AM going to be a pro snowboarder!"
Meanwhile, Jamie Anderson took second at nearby Stoneham Mountain for the Slopestyle competition.
No stranger to the power of determination herself, the 26-year-old Anderson is the most decorated snowboarder in the history of Slopestyle competition, and that goes for men and women.
Against a field of international riders, Anderson's experience once again placed her on the podium with a solid second place showing. Coming off a win at last weeks foul weather plagued Grand Prix in Mammoth, Anderson flowed through the course with her trademark balance of progression, style and fluidity – a rarity in these adrenaline fueled competitions. As always, at the end of the run it was her trademark smile that said it all. It's clear she is doing what she loves.
"As far as learning something new and progressing," she stated, "As long as you have a passion for it, it's easy."
It would appear that way! Continuing their record breaking seasons both Anderson and Parrot continue to earn points in their bid for the 2018 Winter Olympics in Pyeongchang, South Korea next February. Anderson, if you remember was the Gold medal winner in the inaugural Slopestyle competition in Sochi three years ago, and considering the tear Parrot has been on this season, he looks to be the man to beat next year as Big Air makes its debut on the Olympic Stage.
###
About Monster Energy
Based in Corona, California, Monster Energy is the leading marketer and distributor of energy drinks and alternative beverages. Refusing to acknowledge the traditional, Monster Energy supports the scene and sport. Whether motocross, off-road, NASCAR, MMA, BMX, surf, snowboard, ski, skateboard, or the rock and roll lifestyle, Monster Energy is a brand that believes in authenticity and the core of what its sports, athletes and musicians represent. More than a drink, it's the way of life lived by athletes, sports, bands, believers and fans. See more about Monster Energy including all of its drinks at http://www.monsterenergy.com.