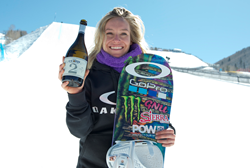 It feels amazing to be third place. It was such a high level that even sixth place was a crazy run with 16's in it. I have been struggling with slopestyle comps for a while so it was good to be back on a podium - Sven Thorgren
Vail, CO (PRWEB) March 04, 2017
Monster Energy congratulates athletes Jamie Anderson and Sven Thorgren for their respective second and third place finishes at the Slopestyle event at the historic Burton US Open Snowboarding in Vail, Colorado. Heading into the home stretch of competition season, both riders continued their stellar year with insane runs solidifying them as two of the most respected names in professional snowboarding.
Long considered the most prestigious event in snowboarding, the US Open enjoyed its 35th year of competition amidst absolutely perfect conditions on Friday. With 45-degree temperatures, not a cloud in the sky and zero wind, riders from around the world lined up to hit one of the most inventive slopestyle courses seen in recent years. Alternating rails and jumps made for an interesting take on traditional three-rail, three-jump layout, which has generally been the norm.
And for the most decorated snowboarder in slopestyle history, Anderson, it proved to be a big day as she put her years of experience to work picking apart the features with clinical precision.
At just 26-years-old it sounds strange to call Anderson a veteran, but considering her career began over a decade ago she is far and away the most experienced rider in the field with more wins than any female rider in the discipline, including three straight at the Open. The regular footer from South Lake Tahoe took home second with a display of style and progression. She did this, by the way, with a fractured elbow sustained just a couple of weeks ago.
When Anderson dropped into her third and final run it was clear from the start that she meant business leaning into a clean backside lipslide 270 out, stomping it en route to the first jump. Riding regular, next she floated a backside 540 Indy before spinning one of her signature cab 720's. The highlight of her run however, came next as she buttered a boardslide to 450 out on the unique cannon rail, flying a good 40 feet off the end of the box before crushing the landing. Capping off her run with a frontside 720 mute on the 70-foot final jump, she narrowly missed the victory scoring an 81.5 for second.
"I could have gone a little bigger on the jumps," said Anderson, "But look around, isn't this amazing? I'm definitely satisfied!"
Following suit, as the guys strapped in Thorgren showed why he is widely considered one of the most unique and stylish riders in competitive riding. Starting his run with a gap to frontside hard way 270 to switch on the down flat down rail, and then coming in Cab 270 to 270 off on the rainbow to a frontside double 1080 with a mute to tail grab followed up with a backside 1440 stalefish. Highlighted by a double backside rodeo off the cannon rail, which he won best trick of the contest with, the Norwegian also chucked an incredible cab 1260 to top off his third-place run.
Forgoing the triple cork craze that has swept up men's slopestyle, Thorgren instead has opted to push the progression of his snowboarding in a different direction focusing on flat spins, shifty variations and different grabs. While Thorgren's trick selection may lack the total rotations of his counterparts, it's widely acknowledged by fellow riders that what he does is technically more difficult. When judges start to consider this, Thorgren's second and third place finishes will turn to victories.
"It feels amazing to be third place, said Thorgren. It was such a high level that even sixth place was a crazy run with 16's in it. I have been struggling with slopestyle comps for a while so it was good to be back on a podium for a slopestyle contest and feels great. I think the SLS (Snowboarding Live Scoring System) judging helped me a lot with my rail tricks. And…it was a great contest with the best weather I have ever seen. I am hyped for X Games Norway next week."
With Anderson and Thorgren, as well as Big Air superstar Max Parrot, set to compete in the final competition of the year at X Games Norway next weekend, it's not over yet. In a season that has seen records broken and the progression of the sport transcend the logical, it's going to be interesting to see what Monster Energy athletes have in store to close out this epic season.
For more on Anderson, Thorgren and the rest of the Monster Energy snowboard athletes visit http://www.monsterenergy.com. Follow Monster Energy on YouTube, Facebook, Instagram and Twitter.
###
About Monster Energy
Based in Corona, California, Monster Energy is the leading marketer and distributor of energy drinks and alternative beverages. Refusing to acknowledge the traditional, Monster Energy supports the scene and sport. Whether motocross, off-road, NASCAR, MMA, BMX, surf, snowboard, ski, skateboard, or the rock and roll lifestyle, Monster Energy is a brand that believes in authenticity and the core of what its sports, athletes and musicians represent. More than a drink, it's the way of life lived by athletes, sports, bands, believers and fans. See more about Monster Energy including all of its drinks at http://www.monsterenergy.com.