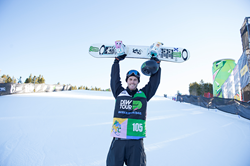 I can't believe this, I am just so stoked. This has just been such a fun and creative contest. I really like this format and have been having so much fun with everyone - Ståle Sandbech
BRECKENRIDGE, Colo. (PRWEB) December 17, 2018
On the fourth and final day of the Winter Dew Tour in Breckenridge, Colorado, Monster Energy Athletes showed up to throw down and win big. Chloe Kim and Ståle Sandbech were the big winners of the day with Kim taking first place in Women's Snowboard Modified Superpipe, and Sandbech earning the highly coveted win in Men's Snowboard Slopestyle. Fellow teammate, David Wise, also landed on the podium with a solid third place performance in Men's Ski Modified Superpipe.
Breckenridge enjoyed beautiful weather all weekend, and Sunday was no different as the sun shone brightly and temperatures were warm, creating the perfect conditions for the last day of finals.
The Norwegian powerhouse, Sandbech, stomped his way to first place in the action-packed men's snowboard slopstyle final, which featured an impressive range of tricks from the international field. Sandbech came away with the win as he was the only rider to place in the 90's on both his jump and jib runs, for a total score of 181.33. On the jumps, Sandbech scored a 91.33 on his second run. He spun a dizzying array of tricks including two massive 1260s, and a clean cab 1440. On jibs, Sandbech used the Stanley plexiglass into a backside 180-switch backside 180 off, to 270 lipside backside hardway, to 50/50 boardslide to a mini dab out.
"I can't believe this, I am just so stoked," said Sandbech following the event. "This has just been such a fun and creative contest. I really like this format and have been having so much fun with everyone," he continued.
Reigning Olympic Gold Medalist, Kim, was on an absolute tear in the women's Modified Superpipe scored the highest of the day on her first run and secured the win in the newly reimagined event.
Kim scored a 94.67 for her super clean backside 540 indy off the shark fin, into a switch frontside 900 melon, switch backside 360 indy, indy McTwist, frontside 360 indy before ending with a monster frontside air. This had the crowd and the announcers going wild.
Kim admitted that the new format of the Modified Superipe, which combined elements of a slopestyle course within the pipe, was a bit nerve-wracking.
"I was pretty nervous going into this, because today was actually the first day that I put everything together and landed," Kim said following the event. "But I'm stoked it worked out, and this event has just been so fun. It's been a great week with everyone," she continued.
On the men's ski side of things, Wise claimed third with his first run, which consisted of a switch bio 900 off the fin, a solid double 1260 in the pipe, and a cork 720 on the hip at the bottom. Judges awarded him an 84.67, which held for second place throughout the majority of the contest, but was bumped into third at the last minute.
"I had so much fun this week watching all the guys laying down so many creative runs— it was a pleasure to be apart of it and share the podium with two of my American teammates," said Wise after the event.
Download photos for editorial use.
With that, Winter Dew Tour 2018 is officially a wrap. Monster Energy Athletes will now turn their attention to Winter X Games in Aspen, Colorado January 24-27, 2019.
For more on the Monster Energy snowboard and ski team visit http://www.monsterenergy.com. Follow Monster Energy on YouTube, Facebook, Instagram & Twitter.
About Monster Energy
Based in Corona, California, Monster Energy is the leading marketer and distributor of energy drinks and alternative beverages. Refusing to acknowledge the traditional, Monster Energy supports the scene and sport. Whether motocross, off-road, NASCAR, MMA, BMX, surf, snowboard, ski, skateboard, or the rock and roll lifestyle, Monster Energy is a brand that believes in authenticity and the core of what its sports, athletes and musicians represent. More than a drink, it's the way of life lived by athletes, sports, bands, believers and fans. See more about Monster Energy including all of its drinks at http://www.monsterenergy.com.